Biden heading to Maui to meet with wildfire survivors https://t.co/Svw6dqlnYQ pic.twitter.com/uF7kNvWwG6

— Reuters (@Reuters) August 21, 2023
President Joe Biden's duty as consoler-in-chief will be put to the test on Monday when he visits Maui, nearly two weeks after wildfires swept through the Hawaiian island and killed more than 100 people.

Biden will pause his vacation in Lake Tahoe to fly from Reno, Nevada, to Maui, where he and first lady Jill Biden will take a helicopter tour of the burned-out areas.

They will then visit the devastated Lahaina community to see the wildfire damage firsthand and receive a briefing from state and local officials.

After the tour, Biden will make remarks "paying respects to the lives lost and reflecting on the tragic, lasting impacts of these wildfires on survivors and the community," a White House official said…

… Biden has been leading a "whole of government" effort to help Hawaii recover. Biden himself said he did not want to travel to Maui until he was assured that he would not interfere with emergency response efforts.

On Monday, he will announce the appointment of FEMA Region 9 administrator Bob Fenton as the chief federal response coordinator to oversee a long-term federal recovery effort, the White House official said.

Biden also will meet emergency responders, survivors and community members, the official said.

"I will do everything in my power to help Maui recover and rebuild from this tragedy," Biden said in a statement on Sunday. "And throughout our efforts, we are focused on respecting sacred lands, cultures, and traditions."…

Amid concerns by displaced Lahaina residents that developers will seek to buy them out, FEMA administrator Deanne Criswell said on Sunday on CNN's "State of the Union" show that Biden will reassure the residents that they will be in control of how they rebuild.
All the criticisms about Biden, no matter the topic, are about optics. I love how Biden ignores his critics, does the heavy lifting, and delivers results. Be it delivering sick days to the rail strikers or disaster relief to Maui. He has shown himself to be a hard hat President.

— simpleplan90s (@simpleplan90s) August 21, 2023
You know who else has been awesome? My amazing senator @brianschatz. On the ground in Maui. Helpful. Kind. Empathetic. 100% responsive. Everything you want in your senator. Mahalo nui loa.https://t.co/SZ9NTwSzgV

— HawaiiDelilah™ 🟦 #MauiStrong (@HawaiiDelilah) August 21, 2023
Lured by jobs, a laid-back lifestyle and gorgeous scenery, immigrants had flocked to Lahaina from all over the world. But after fires leveled the town, some foreign-born workers perished, and many lost everything in the inferno, including documents.. https://t.co/mrz0pXyy7S

— The Associated Press (@AP) August 21, 2023
Meanwhile, the Disloyal Opposition: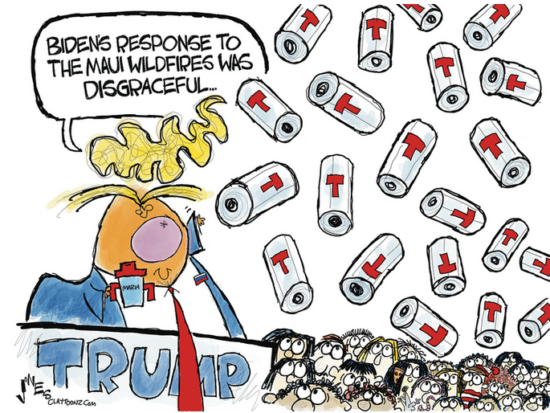 (Clay Jones via GoComics.com)
Disaster tourism.

No better than that kid who traveled to Syria or the multitude of people who decide they're going to show the "Truth about North Korea". https://t.co/EJjRUdhl7p

— Fr. Robert Ballecer, SJ (@padresj) August 20, 2023