FL Gov. Ron DeSantis's sad trombone of a campaign was womp-womp-womping its way through Iowa last week and had planned to be in South Carolina today. But a racist terrorist attack in Jacksonville that killed three and a storm aiming at the state forced him off the trail and back to Tallahassee, according to WUSF:
Crises at home pose a new test for Florida Gov. Ron DeSantis, whose presidential campaign travels are now up in the air as his state mourns a racially motivated shooting in Jacksonville and prepares for a tropical storm.

A day after appearing in Iowa, DeSantis was back in the state capital of Tallahassee on Sunday for a news conference on Tropical Storm Idalia. He urged Floridians to heed the advice of emergency managers. He also offered condolences and condemned the killing of three Black people by a white man who authorities say left behind a suicide note, a will, and writings with racist material.
We can't know for sure, but it was probably the storm that prompted the governor's return, not the racist terrorist attack. He sucks at consoling people and is notoriously extra-squirmy after violence or public outrages committed by white supremacists and antisemites, i.e., The Base. He tends to get angrier at suggestions that he should address these incidents than about the incidents themselves.
DeSantis and his awful wife did attend a Jacksonville vigil for those killed by the racist gunman. This surprised me, and I'm still weighing whether he should get credit for it or if it was a campaign stunt. But while he was speaking, he got booed by attendees until a local councilwoman stepped in to save his ass: (Orlando Sentinel)
Following services earlier in the day, about 200 people showed up at a Sunday evening vigil a block from the Dollar General store in Jacksonville where officials said Ryan Palmeter opened fire Saturday using guns he bought legally despite a past involuntary commitment for a mental health exam.

Republican Gov. Ron DeSantis — who is running for the GOP nomination for president, who has loosened gun laws in Florida and who has antagonized civil rights leaders by deriding "wokeness " — was loudly booed as he addressed the vigil.

Ju'Coby Pittman, a Jacksonville city councilwoman who represents the neighborhood where the shooting happened, stepped in to ask the crowd to listen.

"It ain't about parties today," she said. "A bullet don't know a party."
Councilwoman Pittman's saying that was understandable. Things were getting mighty uncomfortable, and beads of sweat were rapidly forming on Tacky O's upper lip. But we all know there's only one party that prioritizes guns and ammo over people. There's only one party that is whitewashing black history, including the state's appalling record of racist violence. So, no credit. The crowd booed the right person.
Soon-to-be Hurricane Idalia must strike the flailing campaign masterminds as a potential godsend for their broke-ass effort. The earned media is already rolling in. When I left home at 7 AM to complete my storm preparations (beer! cheese! more wine!), I turned the TV on to keep the dogs company, and when I returned, DeSantis was droning monotonously on CNN about likely downed trees and power outages.
He'll probably get a chance to bust out the shrimper boots by Thursday.
Publix, a regional grocery chain down here, used to make hurricane cakes that were decorated with icing depicting the radar image of a storm and the slogan GO AWAY written on the side or top: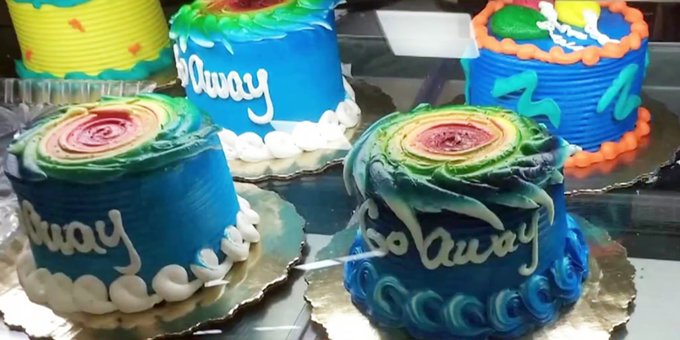 But some people found that in bad taste and complained, so Publix stopped making them. Then people complained about that. Tampa Bay Times columnist Stephanie Hayes defended the hurricakes today:
Lastly, and this may seem like a leap, but stay with me. I often wonder if seemingly innocuous moves like this contribute to individual apathy and extremism. A lot to put on a cake, right? But it's already nearly impossible to shop anywhere without referencing a historical flow chart of bad corporate behavior. Is my toothpaste purchase adjacent to an insurrection? Does this tasty sub sandwich harm the LGBTQ+ community? Did I just ding the planet by expelling the fuel it takes to get to another store that might be less financially nefarious? Did ordering my toilet paper online contribute to a billionaire's evil plot to establish a colony of space cadets on Mars? Have I eaten anything today? Where are my keys?

I am just saying, it's not outside the realm of possibility to think that a small story concerning a dessert themed around regional weather interests might be the weight that tips an already exhausted and confused person off the scale. Why try to do the right thing when everything is wrong? Disillusioned, this person will start using the word "woke" unironically and head to the dark web, where they inevitably become radicalized and forge a campaign as the next president of these United States of America. We will all watch this person gesticulating wildly on a political debate stage sponsored by Publix as we eat plain white frosted cakes and a tropical weather event bears down on our uninsured ramshackle homes.

The defense rests. Bring back the cakes.
She's not wrong — trying to live life in an ethical way is complicated, and extremism is an easy way out for people who can't hack it.
Anyhoo, maybe I'll make my own damn cake decorated with a hurricane graphic and DeSantis's face in the middle and a slogan iced on the side that applies to both: GO THE FUCK AWAY.
Open thread.
ETA: Breaking from WaPo:
U.S. District Judge Tanya S. Chutkan has scheduled Donald Trump's D.C. trial on charges of attempting to overturn the 2020 presidential election for March 4, 2024. A separate hearing was being held in Atlanta Monday morning to determine whether Trump's former chief of staff, Mark Meadows, can move his election-related indictment from state to federal court. Trump is a frontrunner in the Republican 2024 presidential contest, and the D.C. trial's starting date is the day before the Super Tuesday primaries.
H/T to valued commenter Sanjeevs for the heads-up on the ruling.