Now he lives in the islands, fishes the pilin's
And drinks his green label each day
He's writing his memoirs and losing his hearing
But he don't care what most people say
Through 86 years of perpetual motion
If he likes you he'll smile then he'll say
Jimmy, some of it's magic, some of it's tragic
But I had a good life all the way
Sad news. Anytime there was a close race in Alabama, Buffet – a Mobile native – was game to record a late robo call to help push the Democrat over the edge.

He'll be missed. https://t.co/TgBCmaANfX

— Zac McCrary (@ZacMcCrary) September 2, 2023
(1/?) A quick story about Jimmy Buffett.

I worked at the New Orleans Margaritaville in college, up until I graduated in 2006. It was a good job. Busy, and with generally good tips, especially on festival weekends – and New Orleans has a lot of those.

— John Veron (@IBetterBeFunny) September 2, 2023
When my friends and I evacuated Katrina, we didn't think we'd be gone from the city for months, or that we'd lose most of our belongings permanently. We packed light, like for a weekend away.

In the week after, it became clear that we wouldn't be going home anytime soon.

I ended up in Austin TX with the clothes on my back and little else. For the next three months, I called FEMA every day to try and get some relief money so I could replace what I'd lost.

But you know who didn't make me wait three months? Jimmy Buffett.

Margaritaville cut us all $3,000 checks immediately after the storm, no questions asked. That money saved lives. They also let employees know that if any of us could get to ANY other Margaritaville, there was a job waiting for us.

Some friends went to Orlando.

In Orlando they were set up with clothes (all Margaritaville merch, but it was better than nothing), a job, and housing. They even comped their meals when they ate at the restaurant.

In October, the New Orleans Margaritaville reopened. With little fanfare, Jimmy played a solo acoustic show in the bar to help bring people in.

Jimmy Buffett showed up for us when we needed it. He took care of me and my friends. I'll always be grateful.
Character is how someone behaves when they think nobody is watching.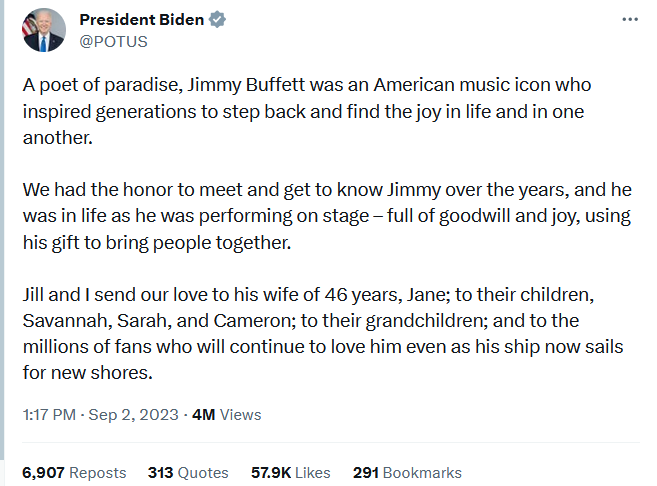 RIP Jimmy Buffett who had .25 seconds of screen time in Jurassic World and knew exactly how to use it. pic.twitter.com/5IKYsRPMkl

— Katie (@KatiePZim) September 2, 2023
When you create a lifestyle brand that appeals to guys who own boat dealerships, you're set for life

— Two-piece Advocate (@frazierapproves) September 2, 2023