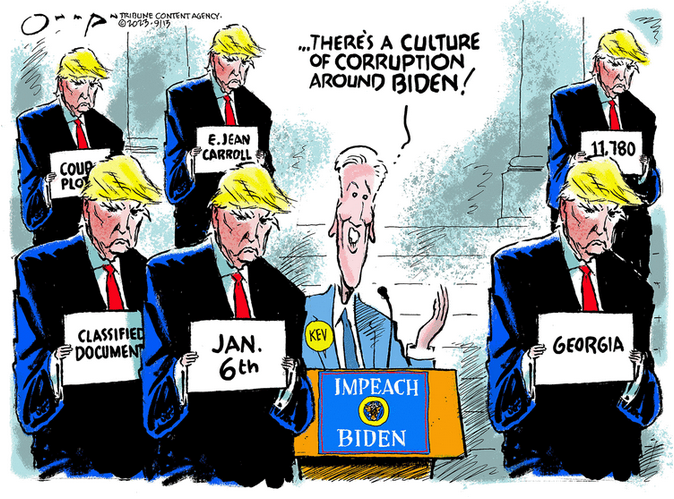 (Jack Ohman via GoComics.com)
For folks who primarily consume right-wing media funded by billionaires, let me help on the Hunter issue and what's not been proven:

1. The committee has not found any direct evidence that President Biden personally benefited from any of his son's biz dealings.

— Heidi Przybyla 🌺 (@HeidiReports) September 5, 2023

"National investigations, Politico" reporter:
a report released by Senate Republicans that found Hunter Biden's role on the board of Burisma "awkward" and at times "problematic" .. but provides no new evidence and found no instance of policy being altered as a result of his role."https://t.co/b1QoA2FXg0

— Heidi Przybyla 🌺 (@HeidiReports) September 5, 2023
Also no explanation on why there's no investigation here:https://t.co/XoEaEjy66m

Ethics experts say such a deal creates the appearance of potential payback for Kushner's actions in the White House — or of a bid for future favor if … Trump runs for reelection.

Now he is:

— Heidi Przybyla 🌺 (@HeidiReports) September 5, 2023
Mr. Kushner played a leading role inside the Trump administration defending Crown Prince Mohammed after U.S. intelligence agencies concluded that he had approved the 2018 killing and dismemberment of Jamal Khashoggi, a Saudi columnist for The Washington Post and resident of Virginia who had criticized the kingdom's rulers.

Mr. Kushner had also helped broker $110 billion in weapons sales to Saudi Arabia over 10 years. He helped protect those and other weapons deals from congressional outrage over the murder of Mr. Khashoggi and the humanitarian catastrophe created by the Saudi-led military intervention in Yemen.
— Heidi Przybyla 🌺 (@HeidiReports) September 6, 2023