Longtime readers will know that one of my long held fears is an AI takeover of trucking and automated trucking. Not because I fear the technology (although if the AI is as bad as Tesla, it scares the hell out of me), but because I grew up in the Ohio Valley in the 70's and 80's and have seen what happens when there is massive disruption in workforces. WV and this region STILL have not recovered from the job losses associated with the deindustrialization of the region- the massive losses from the steel mill, mining, petrochemical, glass factories, etc., rocked this area, and while Pittsburgh and Cleveland proper are having a touch of a renaissance, the rest of us are still mired in poverty at a third world status. Entire counties have nothing but ghost towns where steel and mining towns once thrived.
Now don't think I am pining for the days of unbreathable air and having acid runoff of iron, copper and mercury pour out of mines into waters and have mills and petrochemicals dumping arsenic, cadmium and a whole host of shit into the ground and water. I'm not supportive of any of that and quite frankly am glad it is gone. It's one of the reasons why I am so against fracking- I know what happens to the people and land and water around these kinds of activities, and it is never the fucking rosy scenario presented when say people want to build a cracker plant near you.
However, just as bad in the short term is the social upheaval. Were trucking jobs to be automated and those workers displaced, we are talking about HUNDREDS OF THOUSANDS of jobs. And the impact will be catastrophic, and most people simply have no idea how much of the work force is involved in trucking. Here's a little map: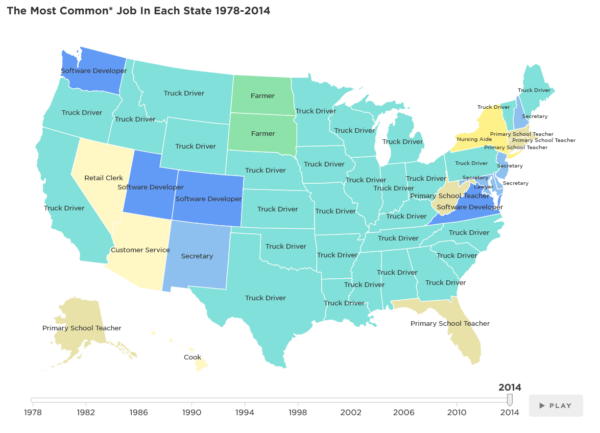 That map is ten years old, but you get the point.
***
The point of all this is that large and rapid changes in the trucking industry scare the fuck out of me because they will almost always be bad. This is an industry in which the workers are regularly used to being fucked, whether it be by the deregulation act in the 1980's which was a catastrophe for drivers, fuel shocks, etc. And right now, we are on the Eve of the biggest bankruptcy in trucking ever, dwarfing even the CF bankruptcy in 2002. With the CF bankruptcy, over 8000 drivers lost their jobs. When Yellow ceases operations on Monday, we're talking three times that number:
From the Great Recession to 2020, Yellow nearly went bankrupt four times. In each episode, the trucking giant was saved — thanks to concessions from lenders, the Teamsters union, the federal government or often all three.

As a result, some of Yellow's 30,000 employees weren't too scared when the company began warning this summer that the end times were coming again. "It's like crying wolf at this point," Yellow mechanic Brian Atchely told FreightWaves earlier this month.

Now — as a strike looms, customers begin to pull freight and the Teamsters union refuses to meet — industry watchers are on alert that the trucking fleet may finally shutter. Ahead of a federal court hearing on Friday, Yellow said a work stoppage could force the company into a Chapter 7 liquidation bankruptcy proceeding.

Truck drivers are grappling with the idea that they could lose their jobs. Some 22,000 Teamsters members work at Yellow.

Paul Duquette, who works at the company's Youngstown, Ohio, terminal, joined Yellow 11 years ago after his previous union trucking employer closed. He told FreightWaves on Friday morning that he and his colleagues are clearing the docks of freight now.

"I don't see things happening in a good light right now," Duquette said. "It's sad."
It's been a mess for a while:
A beleaguered trucking business that received a $700 million pandemic-era loan from the federal government may be forced to file for bankruptcy protection this summer amid a dispute with its union, a development that could leave American taxpayers stuck with a failed company.

The financial woes at the business, Yellow, which previously went by the name YRC Worldwide, have been building for years. The company lost more than $100 million in 2019 and has more than $1.5 billion in outstanding debt, including the government loan. In 2022, YRC, which ships meal kits, protective equipment and other supplies to military bases, agreed to pay $6.85 million to settle a federal lawsuit that accused it of defrauding the Defense Department.

In 2020, the Trump administration, which had ties to the company and its executives, agreed to give the firm a pandemic relief loan in exchange for the federal government assuming a 30 percent equity stake in the company.
They company, of course, is trying to pin this on the Teamsters, which is nonsense on stilts, because their dispute with the Teamsters is THEM NOT PAYING WHAT THEY ALREADY OWE.
The video, believed to be from earlier this week, shows furious workers in a depot after hearing that the company has failed to make a $50 million payment for employee benefits.

Pension accruals and employee healthcare is also set to be suspended on July 23.

In the footage the employee shouts and paces back and forth, yelling: 'Nobody tell me about why am I getting emotional.'

He continues: 'I've been here thirty years. Nobody tell me to calm down. Analyze that s****.'

Teamsters General President Sean M. O'Brien said in a statement: 'Yellow has failed its workers once again and continues to neglect its responsibilities.
At any rate, keep your eye on this one, and hopefully there are some folks who can offer up more in the comments, especially some discussion of LTL and how even though volume is down, profitability is up, etc.