Picked up Quantum of Solace
, which I did not catch when it was out, and watched the first ten minutes during an early dinner, and I can say that he is in my opinion the best Bond ever. I really hope they make a bunch more Bond flicks with him.
In other movie news, has anyone seen The Foot Fist Way
? I sort of have been sucked into Eastbound and Down, which is just a train wreck in so many ways, and am curious what you all think of this other Danny McBride work.
Finally, it has been a while, so here is a picture of freshly furminated Tunch: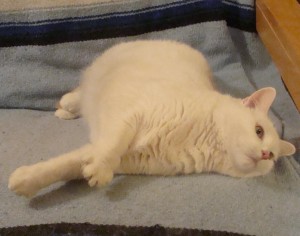 He loves being furminated so much that he doesn't even mind when I yank him off the window sill where he is sunning himself, just so long as the brushing starts soon.