We are still apparently dealing with the malware thing, and to be honest, I am at my wits end. We are flagged, but there is no malware on the site according to all the malware sites and google. A false flag, I guess. Just give it time. For now though, Lily rolling in the grass: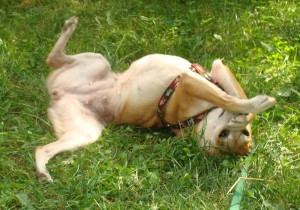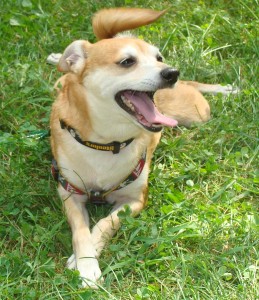 Muggy as all get out here, but Lily is having fun.
Also, below the fold is a new feature, a Thursday night recipe for the weekend from frequent BJ commenter Bad Horse's Filly.
I've tried to tailor this to what is
fresh at this time of year. Peaches are plentiful in Colorado right
now, which is how this recipe was originally born – what to do with
all those peaches!
Here's this weekend's menu
(serves 4):
Grilled Pork Chops with Peach Chutney
Peas* in Butter
Couscous
Sliced Melon
Grilled Pork Chops w/Peach
Chutney:
4 pork chops, medium
thickness
½ tsp crushed garlic
salt & pepper
to taste
2 tsp olive oil
½
cup Peach Chutney
Mix together garlic, salt,
pepper and oil and brush over both sides of chops. Grill over medium-high
coals for 5 to 7 minutes on one side, turn and top with ¼ of chutney
on each chop. Grill additional 5 to 7 minutes, until cooked to desired
doneness. Serve immediately, with additional chutney if desired.
Peach Chutney:
2 large peaches,
peeled, pitted and chopped
4 green onions,
chopped
½ cup golden raisins
¼ cup brown sugar
¼ cup apple cider
vinegar
¼ tsp ground ginger
¼ tsp chili powder
salt to taste
small sauce pan
Add all ingredients to sauce
pan, heat to boiling – stirring constantly, reduce heat and simmer for
30 minutes, uncovered, until slightly thickened.
Shopping list:
4 boneless pork
chops (medium thickness)
2 large peaches
4 green onions
4 oz golden raisins
16 oz peas*
couscous (usually
a 6 oz box works fine)
favorite melon
Also: crushed garlic, olive
oil, brown sugar, apple cider vinegar, ground ginger, chili powder
*it's been cool enough here
for peas to still be in the garden, but if not, go for whatever is fresh
– green beans, squash or a fresh salad.