John's busted shoulder has left Tunch's many fans desperate for a feline, er, fix… yet my tech skills are limited to stealing others' work.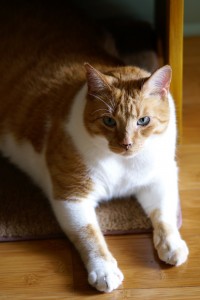 Photo courtesy of commentor Mr. Whipple, who says: "How about some Punkatude?… He goes by Punky, Punky's Whips, Mr. Whipples, Whippy whip, Orange whip, Booj, Stinkbutt, Mr. Crusty, Nipples and Champ. Those are the ones I can remember offhand."
***********
On a very different topic… HBO is "eyeing" a biopic about anti-gay activist Anita Bryant.
"Sex and the City" creator Darren Star is on board to direct the film, which is being written by "Runaway" creator Chad Hodge. Star also is executive producing with Dennis Erdman. "She is a fascinating person on every single level," said Hodge… "The twists and turns of her life are incredible."
__
In 1959 and '60, she was a major pop star with three million-selling records. After marrying and settling in Florida, she reverted to Christian music and, projecting a wholesome image, began plugging such blue-chip companies as Coca-Cola, Kraft Foods and Holiday Inn. Her most famous celebrity endorsement gig was for the Florida Citrus Commission, for which she sang in a series of TV commercials, closing each ad with the tag line, "A day without orange juice is like a day without sunshine."
__
… In 1977, she switched to political activism, launching a crusade to repeal a new Miami-Dade County ordinance prohibiting discrimination on the basis of sexual orientation…
__
"As a mother, I know that homosexuals cannot biologically reproduce children; therefore, they must recruit our children," she said. Her Save the Children coalition got the new law overturned within a year, and it took 20 years for it to be reinstated.

Allison Waldman on TVSquad, where I first read about this, said: "Today, many people have no idea who Anita Bryant is. The Miss America contestant turned professional singer and commercial spokesperson turned anti-gay celebrity activist was a firebrand to a controversy that raged in the 1980s, but for an entire generation — maybe more — she's unknown."
I was 21 when Ms. Bryant and Jerry Falwell started that particular crusade. (Off my lawn, you kids get.) Wonder if I can find my IMMORAL MINORITY political pinback?
Waldman also speculates about which actor might be chosen to play Bryant. One of her commentors suggests: "Isn't it obvious? I understand that Carrie Prejean is available."
***********
And finally, John Cole will finally get to see new episodes of Southland on TNT starting March 2. There's a sneak peak at the link. Looks good to me, and I hope enough people watch this abbreviated "second season" to bring this great team of writers and actors back for a good long run.