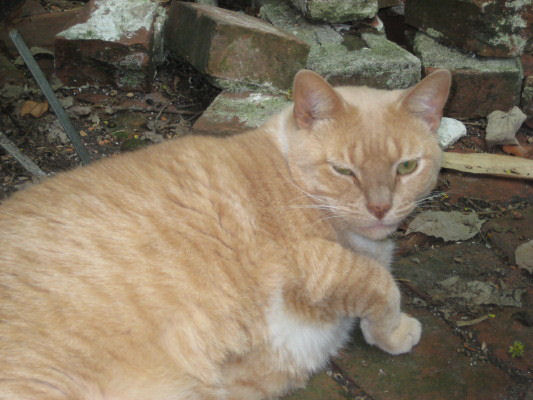 From commentor Phillygirl:
Here's the timorous but loving benny, taking in the sights of my little back yard. one advantage of having an old, fat cat is that he can't jump over the wall. he is forever safe.
__
Senior catz are deserving and grateful, too. I got my Benny from some rescue people who were at their wits' end. Benny, age and history kind of mysterious, performed miserably on adoption days, cowering in the back of his cage and trembling when touched. Also, he was fat, and thus, like chunkier senior humans, not so visually appealing. No matter! After hiding under a rug (!) in my house for a week, he slowly began turning into a pet. Within a few months, he was a cuddler, a licker, and a belly-rub enthusiast. Mostly, these guys just need to feel safe. Then they will reward you richly, with devotion and sometimes with small, dead rodents. Get to yer shelter tomorrow.
(Since I a full-figured ginger of a certain age, I think that Benny is a fine, handsome fellow!)
***********
And a bonus story from commentor JCT:
I'm reading this crashed out in our RV with my own pack of beagies. We actually bought the RV because we couldn't bear to leave them behind…
__
We rescued our first beagle mix a few years ago – supposedly for our young son, but Shadow bonded to my husband and we decided to adopt a sister for her. I went to a rescue day at a vet to get a young beagle, only to fall in love with a scrawny, scarred old girl named Trixie. No one was paying any attention to her, but my daughter noticed that as Trixie walked up to the puppy cages they all ran to her like she was their mother- no matter what the breed. When we asked about her the rescue folks were so thrilled, they thought she would never be picked. She had been found by the side of the road, apparently abandoned by one of the fucking puppy mills in the area. It is hard to describe how beat-up she looked, when I brought my husband out to pick her up he looked at me like I had lost my mind. She was of course, a fabulous dog, adored everyone, slept curled up with my son every night in their private "beagle pile" and just adored chew toys – I think the poor sweetheart had never had toys before, she used to hide them in a pile under our bed. 3 months of love and joy later she became a little short of breath and by the end of the month we had to have her put down while I held her because she had metastatic mammary gland tumors thanks to her previous life as a puppy machine. For months we were finding hidden toys. 8 years later we still have her purple leash and collar. Just last night the whole family was talking about her, while we were surrounded by our current beagles – both of whom sleep in our bed, one with her head on the pillow like a baby.