Feeling much better today, but I'm pretty sure I'll feel sick to my stomache after we play the Titans.
Also, I've learned that I'm an anti-Semite because I asked Ben Smith why he wasn't in church after he tweeted this bullshit: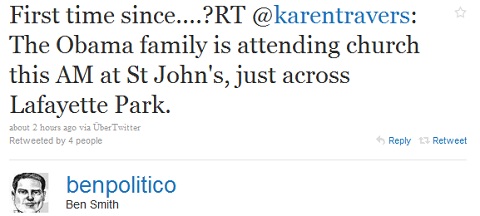 I was promptly informed by someone that I was "jew-baiting" Ben Smith because I had no idea he was Jewish.
The best part of this is the whole emphasis on Obama's church habits is that it is little more than an extension of the right-wing meme about Obama being Muslim. He only rarely goes to church, and that's just to fake it. And when he does, it's with that America hating Preacher! Also, blackity black black black!
Personally, I wish Obama had spent the morning clearing brush.