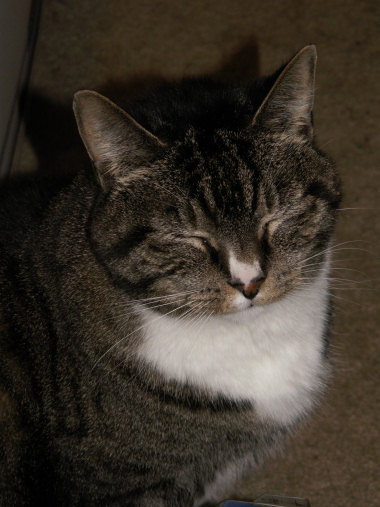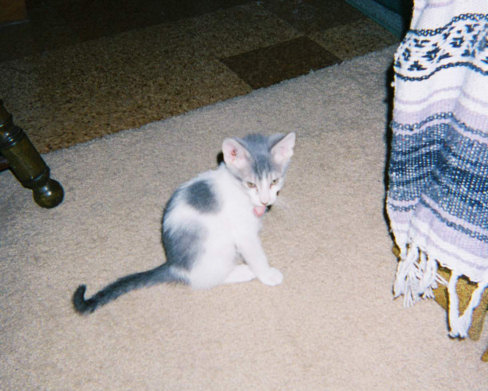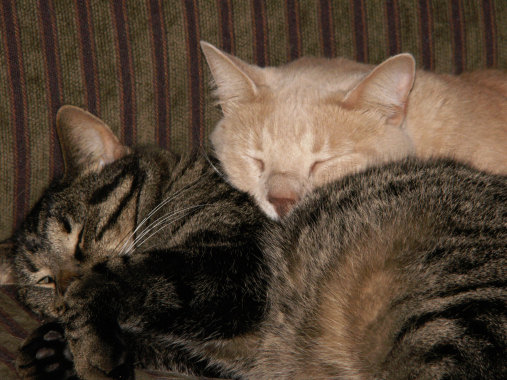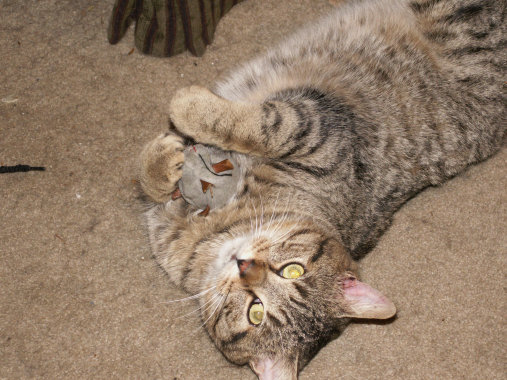 From commentor Jacquelyn:
… I adopted Linus from the Humane Society when he was 5 years old. He has an upper respiratory infection at the time and we couldn't get it to abate. Then his left eye got infected and the lens ulcerated. Did you know there are Veterinary Ophthalmologists? Me neither. She was brilliant and figured out the source of both chronic infections: Linus has been declawed by his previous owners, and their vet cut the bones rather than removing them. One of his "fingers" was infected and as he groomed himself, the infection spread to his lungs and eye. We saved his eye, and fixed his "finger" and he's a happy, healthy 12 year old now!
__
Ying-Mu I got in 2004 when I was about to change jobs. The change meant I no longer worked from home, and Linus would be alone all day. So, I reached out for a kitten. Ying-Mu, now 6, believes he is still the 'baby' contrary to reality. I'm attaching a "then" pic… because he was a funny looking kitten, and now he's gigantic.
__
Augie (butterscotch color) was the next addition to the household in early 2006, at which point he was about 2.5. Commenter Satby rescued him from a kill shelter and I loved him on first sight. He was my accident-prone boy when he was younger. In his first 6 months, he broke his right "arm" for which he was splinted and taped up like a florescent mummy. After a week in the tape, he pulled it all off, deemed himself healed, and headed back outside to play. The following year, he broke his face in 4 places. I assume he was a little farther off the ground than he should have been, perhaps up a tree, and came down in one move. After the veterinary surgeon pinned his upper palate and jaw side-to-side (not closed since he cracked them the long way rather than top to bottom), wrapped his tendon around his TMJ to hold the little bone together and fixed his eye socket, a friend of mine agreed to care for him because I had to travel for work. After 3 days of post-op, he decided he was all better and started rough-housing with her 2 cats.
__
Biscuit, shown in the same photo with Augie, is a dark tabby I was supposed to babysit for 2 weeks about 3 years ago (thanks Satby)! He was another rescue, this time from a kill shelter. He had a severe tooth infection which I got the vet to take care of. After that initial investment, I opted to keep him. His other favorite "brother" is Linus.
__
Finally, Murphy. Murphy walked into my friend's garage this past January when it was -20F and begged her to take him in. Sadly, she is allergic to cats and so I offered to take him. He is about 2 years old and has stirred up all the other cats magnificently. Where they were complacent, now they are always on the lookout for the brat. He's a gorgeous and loving boy and really enjoys being in the kitty pile on my bed at night. Fortunately, they don't use him as the bottom of the stack. He's the lightest in weight of the five.
(I'm only including 4 of Jacquelyn's pics, because that's the maximum number FYWP will allow me.)