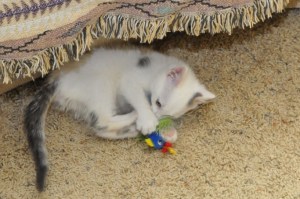 From our faithful correspondent TaMara:
It's been in the 90's all week, but nights are cool enough for me to start thinking of fall menus. I've promised to fulfill some squash soups requests, which I'll post over the next few weeks, but to get you started, there are a couple of Sweet Potato Soups here. If you have other fall menu requests, let me know. I'm happy to look for something new to try. One O/T note: Homer is now officially a member of the JeffW household. Yeah, I know, we're all surprised by that now, aren't we? Tonight's menu is a diverse group of flavors with no discernible theme that I can see. Lots of light fall fruit notes, though, so it has that going for it.
__
On the board tonight:
__
1) Roasted Salmon in Orange-Ginger Soy Sauce
2) Fresh Spinach Salad
3) Herbed Potatoes
4) Blueberry Crisp
As ever, recipes and shopping list at the link.
(In her email, Tamara added: "BJ people are so predictable – Homer has gotten a couple thousand hits since he became our mascot." Lots more where that came from, over at her blog.)