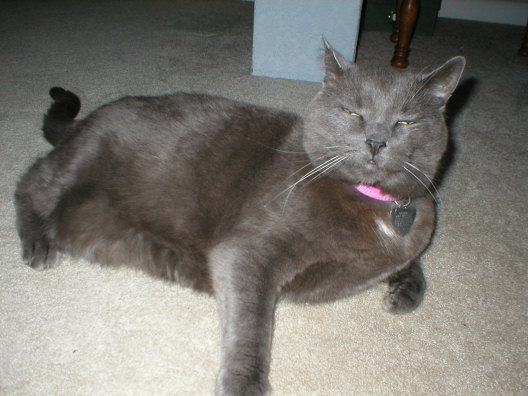 From commentor Amy:
Here's our darling Gabrielle Marie, better known as Gabby, Gabber, Babber, Babby, Babbo or Babbalona. She came into our lives on January 20, 1994. She was a few months old according to the estimate of the cat rescuer we got her from, making her 17 years old this October.
__
We were meant to have Gabby. The apartment building I lived in before getting married had a resident gray cat who was what we called a "big talker." This cat had personality plus, and my then-fiance and I were in love with her. After we got married, Mark pushed me to get a cat. I reluctantly agreed (I'm a clean freak, hate cat hair, etc.) so we tried the local animal shelter and they didn't have any younger cats. I found an ad in the paper, called it and was elated to discover that the available cat was gray! She had been abandoned on the porch of a lady who was known to take in stray cats and the rescue lady thought Gabby had been abused by a male, because she didn't seem to like or trust men.
__
We fell in love with her immediately and have loved her ever since. I consider her my "first born," since our daughter didn't come along until 1995. Gabby is spoiled rotten, and is the best cat EVER. She has never been as comfortable with Mark as she is with me and Meg (our daughter), but she loves all of us, too.
__
I can tell that Gabby is feeling her age. It's harder for her to jump up onto the bed, she doesn't like to go out as much as she used to, and she seems to crave warmth more than usual and has taken to laying right on top of me even if I'm on my stomach. As soon as she gets comfortable, she purrs LOUDLY. I don't mind. I love that cat so.
__
P.S. Gabby has a bit of Tunchnicity as you can see by the picture.