Hello Balloon Juice (cue Robin Williams.)
It is a thrill to be here; this is the blog that has kept me as close to sane as I can hope for for the last several years, and I think I'm going to need all I can get of the front pagers and the community to make it through what seems to be bearing down on us.
So, first, of course, my thanks to John Cole, who for all his professed misanthropy, has managed to create such a fine village here, and to whom I'm deeply indebted for the keys.  Also a shout out to Tim F. – almost the first reader of my home site, The Inverse Square Blog, whose support early and late for my writing there I am very grateful. And also, too, to y'all who gave me and Angry Black Lady such an enthusiastic welcome last night.
I've got my first real post ready to go, and it will come up  immediately after this. (As predicted in last night's comment thread, I'm just holding ABL's coat on that one, but that's not a bad place to start, not at all.)
But just so you know a bit of where I come from, here's the quick background: Age, 52 (unpossible, but there it is), married, one kid, living in or around Boston, proud servant to one feline overlord, Tikka, aka Kitten Tikka Masala.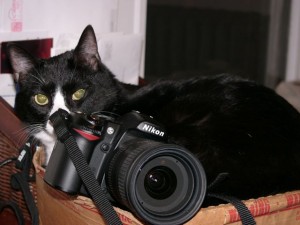 We picked up Tikka at the Animal Rescue League, aged about 12 weeks, and a vet friend of ours thinks he was seriously feral for those first months. In any event, if he doesn't like your looks he'll attempt field surgery on any extremity in reach.
You have been warned.
He's the perfect cat to me, however, except in his expectation of regular 4:30 a.m. feedings.
My day job has me teaching science writing at MIT.  It should go without saying, but in case it doesn't, any views I express here are mine alone, and can't be blamed on anyone else over at 77 Mass. Ave, nor on the Institute itself.
As for what I've actually done/do with my time – I've spent the better part of three decades variously committing journalism, writing books and making documentary television, mostly about science, its history and its context.
Oh – and I'm as a close to an obligate liberal as you can be: actually born between Telegraph and College Avenues in the People's Republic of Berkley, in whose public schools I was educated through  high school (go Yellow Jackets!), from whence I passed to a series of other towns in which no real Americans could possibly live.  If anyone is auditioning for the role of sane conservative around here, it ain't me.
Again, thanks for having me here, John and all and sundry – and I'm looking forward to the usual Balloon Juice full and frank exchanges of views.
And last:  Angry Black Lady's Macallan 18 is not safe from me.  But I have not put the crayon line to mark the level of my Dalmore 15, so turn and turn about's fair play.
(Same plea as ABL here too:  still getting used to the tags and all that.  Corrections and guidance always welcome.)