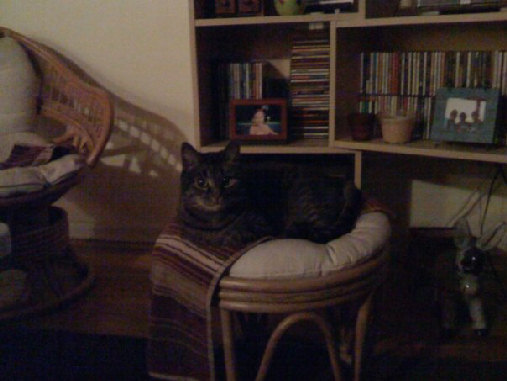 From commentor Anna Maria:
This is Ali. Yes, she's beautiful and she knows it. She is also completely vicious and antisocial and sometimes I think she's plotting to kill me as soon as she figures out how to open the cat food cans by herself. When she wants something (mostly food) she will snuggle and purr and rub and just be adorable, then as soon as she's satisfied she goes back to bitchface and attitude. And yet, I love her so.
__
I am from a family of dog lovers, having been raised to think of the family dog as my little brother. My brother first took pity on little Ali and brought her home when some friends discovered her abandoned as a wee kitty under their porch. My parents, true to their nature as animal lovers, called her their first grandchild. Then my brother had 3 wild children in rapid succession and Ali went from simply looking disgusted when one of those creatures made any kind of noise, to hiding whenever one of them was loose, to hiding full time. My brother and sister-in-law, feeling guilty about Ali's self-imposed permanent exile to the basement, asked the happily single and childless me to take her in.
__
She's a big fat kitty with a gorgeous coat and is polydactyl on all 4 paws. She knows damn well she is special and no one is good enough to be in her presence. She barely tolerates me for as long as it takes to bust out the food when she's hungry. She parks herself on every surface where it's most inconvenient to have cat hair and sheds like crazy–she especially likes to climb onto my closet shelves where I keep folded shirts and sweaters. She crawls all over my laptop, book, magazine, plate or anything else in front of me that's taking my attention away from her, but then bats a giant paw and hisses at me if I kiss, pet, scratch or otherwise acknowledge her presence. If I come home too late (which happens often) she's at the door meowing in this angry little tone (which eerily reminds me of my mother when I was late for curfew in high school). I can't walk 2 feet in my apartment without her running between my legs and tripping me up. She is a royal pain in the ass. And yet I can't imagine not having her as my sidekick.
__
Maybe it's the hardcore feminist in me, but I love her bitchy "worship me" attitude. She's now 13 and still very frisky and shows no signs of slowing down, which is good because I can't even think about coming home one day and not seeing her tail whipping back and forth, pissed off that I'm still not yet worthy of her.