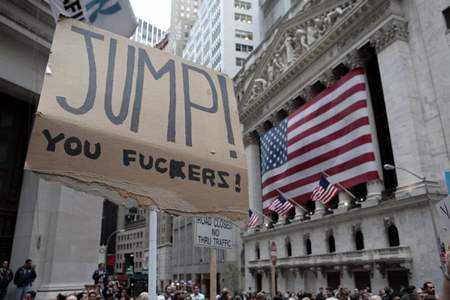 ***
Just when you think you have heard it all, the bankstas and our Galtian Wall Street Overlords manage to plumb new depths of greed and criminality:
Two years before the financial crisis hit, Merrill Lynch confronted a serious problem. No one, not even the bank's own traders, wanted to buy the supposedly safe portions of the mortgage-backed securities Merrill was creating.

Bank executives came up with a fix that had short-term benefits and long-term consequences. They formed a new group within Merrill, which took on the bank's money-losing securities. But how to get the group to accept deals that were otherwise unprofitable? They paid them. The division creating the securities passed portions of their bonuses to the new group, according to two former Merrill executives with detailed knowledge of the arrangement.

The executives said this group, which earned millions in bonuses, played a crucial role in keeping the money machine moving long after it should have ground to a halt.

"It was uneconomic for the traders" — that is, buyers at Merrill — "to take these things," says one former Merrill executive with knowledge of how it worked.

Within Merrill Lynch, some traders called it a "million for a billion" — meaning a million dollars in bonus money for every billion taken on in Merrill mortgage securities. Others referred to it as "the subsidy." One former executive called it bribery. The group was being compensated for how much it took, not whether it made money.

The group, created in 2006, accepted tens of billions of dollars of Merrill's Triple A-rated mortgage-backed assets, with disastrous results. The value of the securities fell to pennies on the dollar and helped to sink the iconic firm. Merrill was sold to Bank of America, which was in turn bailed out by taxpayers.

What became of the bankers who created this arrangement and the traders who took the now-toxic assets? They walked away with millions. Some still hold senior positions at prominent financial firms.
It's ok to be speechless. I had to read it a couple times before I could believe it, and even then I had to google it to see it discussed elsewhere to make sure it was not something someone made up.
They have a solution to this kind of outright crime in China. In the United States, we have multiple wingnut welfare Republican and glibertarian publications singing their praises while an entire party and half of another is devoted to making sure we don't dare regulate the "producers" in society.
I'm thinking China might be on to something, but I'm open to alternatives like public canings and seizing every asset and selling their families into bondage before sending them to prison.
I seriously hate these people.