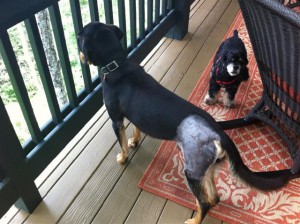 Evelyn at CAAR passes along the good news that between this website and my compulsive twittering, we were able to raise $1200.00 bucks for Cooper's surgery- enough to pay for the surgery and rehab and help some other animals in the process. She writes:
Surgery was on June 16th and he was able to go back to foster home on afternoon of June 17th..Here is report from his foster mom:

"This is called an FHo-femeral head osteotomy. They remove the head of the femor in the joint and the muscles hold everything together. Wait until you see the xrays. Cooper's was more complicated because he had bone fragments in his hip from his old injury. It is unbelievable how well it works, just like Dr. Homolko, our vet in Cashiers, said it would. Cooper is walking and wants to play but he is supposed to be on a leash for 3 weeks. He has his follow up appointment on 6/30. On Wednesday, I have a wonderful family coming to see him. They lost their precious Bullett last year and are now ready for another dog. It is so important that this dog have a wonderful home because he is the NICEST, best behaved dog–just a doll!Please let me know if you need more info."

Please share with your Balloon Juice gang and thank them for me for being so generous with their donations and most of all for caring about our rescue animals in Western North Carolina.
Thank you so much for donating and helping these dogs and the good folks at Charlie's Angels out. They do great work, and get more done with less cash than any other outfit I know of- I follow their FB feed, and with their budget, they are constantly rescuing tons of animals.