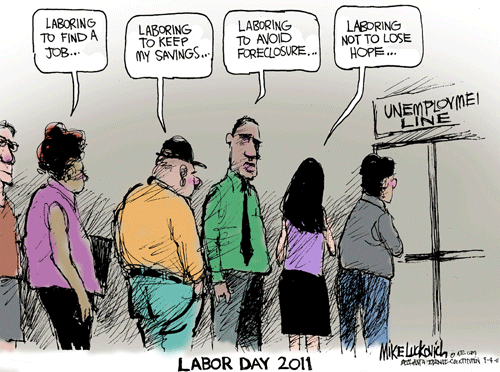 (Mike Luckovich via GoComics.com)
E.J. Dionne, in the Washington Post, on "The Last Labor Day":
Let's get it over with and rename the holiday "Capital Day." We may still celebrate Labor Day, but our culture has given up on honoring workers as the real creators of wealth and their honest toil — the phrase itself seems antique — as worthy of genuine respect.
__
Imagine a Republican saying this: "Labor is prior to and independent of capital. Capital is only the fruit of labor, and could never have existed if labor had not first existed. Labor is the superior of capital, and deserves much the higher consideration."
__
These heretical thoughts would inspire horror among our friends at Fox News or in the Tea Party. They'd likely label them as Marxist, socialist or Big Labor propaganda. Too bad for Abraham Lincoln, our first Republican president, who offered those words in his annual message to Congress in 1861…
__
That the language of Lincoln and John Paul is so distant from our experience today is a sign of an enormous cultural shift. In scores of different ways, we paint investors as the heroes and workers as the sideshow. We tax the fruits of labor more vigorously than we tax the gains from capital — resistance to continuing the payroll tax cut is a case in point — and we hide workers away while lavishing attention on those who make their livings by moving money around.
__
Consider that what the media call economics reporting is largely finance reporting. Once upon a time, a lively band of labor reporters covered the world of work and unions. If you stipulate that the decline of unions makes the old labor beat a bit less compelling, there are still tens of millions of workers who do their jobs every day. But when the labor beat withered, it was rarely replaced by a work beat. Workers have vanished.
__
But we are now inundated with news (and "news") about the world of capital. CNBC and the other financial media are for investors what ESPN is for sports junkies. We cheer the markets, learn the obscure language of hedge fund managers and get to know some of the big investors in off-field interviews. Workers are regarded as factors of production. At best, they're consumers; at worst, they're "labor costs" cutting into profits and the sacred stock price…
His colleague Harold Meyerson is more succinct about "The fallacy of post-industrial prosperity":
Of all the lies that the American people have been told the past four decades, the biggest one may be this: We'll all come out ahead in the shift from an industrial to a post-industrial society. Yes, we were counseled, there will be major dislocations, as there were during the transition from an agrarian to an industrial economy, but the America that will emerge from this transformation, like the America that emerged 100 years ago, will be one whose citizens are ultimately more prosperous and secure than their industrial-era forebears.
__
What a crock.
But cheer up, fellow citizens! The non-opinionated part of the WaPo assures us that "Americans… now find comfort in knowing that more than a million security guards — double the number in the nation's workforce a decade ago — patrol shopping malls and power plants and work through the night to protect public spaces." The guy guarding the Trump National Golf Club in Loudoun, Virginia, is an ex-Marine armed with a Glock 9mm, Mace, and handcuffs!
Why do I seem to hear the ghost of Jay Gould whispering "I can hire one half of the working class to kill the other half"?