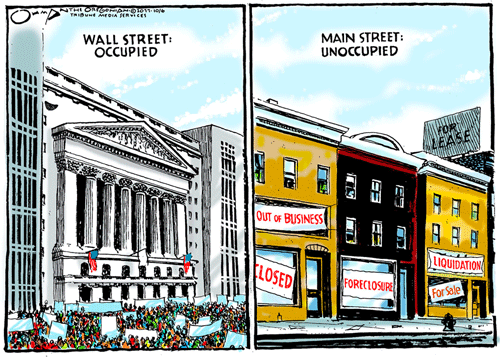 (Jack Ohman via GoComics.com)
__
Lance Mannion (who was the first free-range, non-professional blogger I ever encountered on the web) explains why he went to Occupy Wall Street courtesy of his local Teamsters:
… The goal is obvious too. We want to live in a country that isn't run just for the benefit of bankers, hedge fund managers, and a few sociopathic rich people like the Koch Brothers.
__
How to achieve that goal needs to be worked out, but it was very exciting to me when I was watching the final episode of Ken Burns' Prohibition last night to learn that although the evils wrought by Prohibition and the Volstead Act were well known and popularly regretted for years and that the forces behind it were suspect either as hypocrites or political reactionaries with a mean anti-immigration streak—the Ku Klux Klan were sworn tea-totallers, so there you have both hypocrisy and reactionarysim—a movement to repeal the 18th Amendment made no progress until a determined rich Republican named Pauline Sabin got fed up with the hypocrisies and the meanness and set to work mainly getting people to show up to voice their support for repeal.
__
There was a lot more to what she did than that, but that's where it started, with people showing up to remind politicians, the Drys, and each other that there are more of us than there are of them…
__
If you can't show up but would like to show your support, MoveOn has site where you can sign up to take part in a Virtual March on Wall Street.
__
That's all well and good, but an even better way of showing up if you can't show up is to write letters—to your local newspaper, to your Congresscritters, to your state legislators and governor, and to friends and family…
Commentor Raenelle's daughter is providing excellent coverage at her Plutocracy Files blog.
Commentor Cassidy was going to the Occupy Jacksonville meetup this weekend, and I hope he'll report back.

No matter how the Village media courtiers try to depress expectations, even the least-organized #Occupy gathering sounds like a lot more fun than these folks:
Every year since 2006, social conservatives have gathered to listen to speeches, take workshops, vote in a straw poll, and commiserate about the collapse of American morality at a Family Research Council–sponsored event known as the Values Voter Summit. In the midst of a heated presidential primary season, activists who shell out $100 for a ticket will be graced by appearances from all the major Republican candidates (as well as high-ranking GOP senators and representatives, well-known members of the conservative media, and a smattering of other conservative folk heroes such as former Lieutenant General Benjamin Nixon) at the Omni Shoreham in Washington, D.C. this weekend. For candidates who want to ingratiate themselves to social conservatives — and all of them do — this is the place to do it.
__
The activists here see the upcoming election, as Family Research Council president Tony Perkins put it in his opening remarks, as a "contest of values." And while the crowd here is certainly concerned about gays, abortion, and the like, the biggest round of applause so far this morning came in response to a line about Israel. "We have, and we always should, stand by Israel," House Majority Leader Eric Cantor proclaimed to a long, and loud, standing ovation. (We wonder if anyone here realizes that the weekendlong summit was scheduled to coincide with Yom Kippur, the most sacred Jewish holiday, precluding most religious Jews from attending.) And economic issues are hardly a peripheral concern. Speaker of the House John Boehner received his two biggest rounds of applause when he called for a balanced budget amendment and when he boasted of killing earmarks…
Further, according to Dan Amira at NYMag's Daily Intel, the Values Voters really, really like Herman Cain. Value for their money, just like his pizza advertisements!