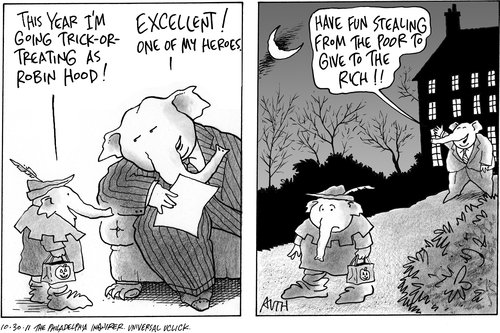 __
Sometimes the headlines are almost enough. Almost. Via Charlie Pierce at Esquire, "In Which the Washington Post Pisses Off Krugman Again":
On Sunday, The Washington Post, a once-great newspaper now d/b/a Graham's Chicken 'n Waffles, published a "news analysis" on the state of the Social Security system that explained that it's time for us seriously to consider "reforming" the system in such a way that it never again does what it was designed to do by that spendthrift bastard FDR, and in such a way that the financial-services sector of our economy can grab as much of that Social Security money as it can and then do as much for old people as the financial-services sector has done for real estate in Nevada…
… Dean Baker at the Center for Economic & Policy Research explains how the "Washington Post Discards All Journalistic Standards In Attack on Social Security":
… This article also repeatedly refers to the debate over cutting benefits as being an "ideological battle." There is no evidence presented in this piece that there is any ideological issue at stake. On the one hand are hundreds of millions of workers who want to see the benefits that they paid for. On the other hand are many wealthy people, exemplified by people like Peter Peterson and Erskine Bowles who would rather use Social Security money to keep their own taxes low or to serve other purposes.
__
This is a battle over who gets the money. The references to ideology just confuse the situation.
For truly scarey Halloween thrills, click the link and read Baker's full dissection of the three-card-monte dishonesty of the busy, busy Kochsuckers. As the local tag does not quite phrase it, he guts these idiots so I don't have to pretend to understand economics.