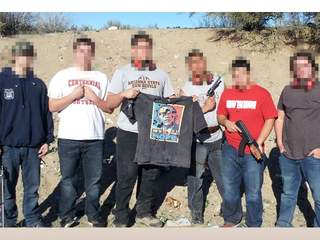 Stay classy, Arizona:
A picture that shows several teens, a few of them carrying guns, displaying a bullet-riddled Obama T-shirt has led the U.S. Secret Service to investigate.

The Peoria Police Department is also doing its own investigation since the person who took the photograph is a Sergeant for the department.
There are just so many things to love about this- that a bunch of kids are running around posing with guns, that they thought it was appropriate to shoot up an Obama t-shirt, and that a cop was the person snapping the picture, and that then, in their infinite wisdom, they decided to post it on the internet.
And y'all wonder how Jan Brewer got elected.