Thanks to alert Balloon Juice commenter WereBear, I learned that Rush Limbaugh was possibly caught on film picking his snoot in Patriot owner Robert Kraft's booth during last night's Super Bowl. There is much speculation about it on the Google: Did he or didn't he shove his finger knuckle-deep into his nostril in full view of all the swells in the skybox, including Steven Tyler?
Deadspin has a pretty definitive photo here. However, some wingnut site called the "Daily Rushbo" gives the clip the Zapruder treatment and concludes that no nose-picking occurred. Not content to rely on the analysis of someone daft enough to run a Limbaugh fan site, I used advanced digital still analysis techniques and found that the truth is far worse than the original rumor.
First, here's the Deadspin still: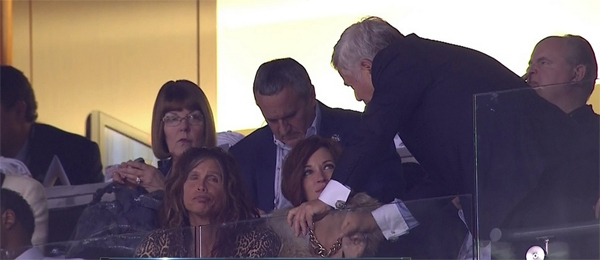 And here's a detailed view of Limbaugh in mid-pick — the enhanced image clearly shows a viscous, green glob of mucus dangling from his index finger: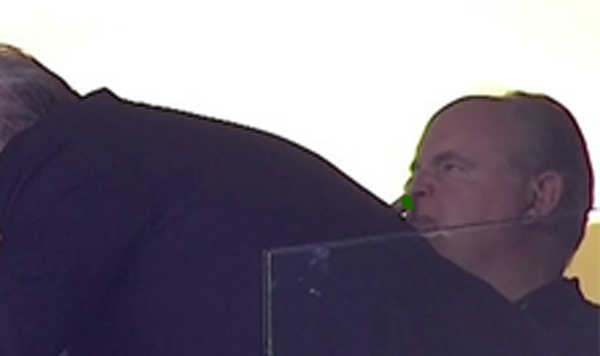 And a couple of frames later, the horrible truth is revealed: Not only did Limbaugh extract a slimy, revolting booger from his snout, he disposed of it by wiping it on the back of his host, Mr. Kraft.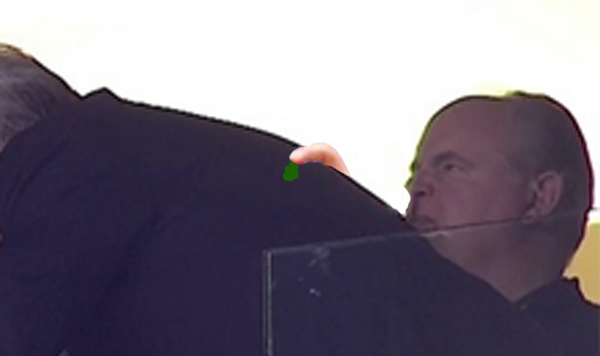 Jesus, that's disgusting. But it kind of puts the NFL ownership's rejection of Limbaugh's bid to join their little club in a new light, doesn't it? It's not that the owners were put off by Limbaugh's constant race-baiting and misogyny; it's just that he's one crass motherfucker.
[X-POSTED at
Rumproast
]