I know that I've been even more than usually AWOL around here lately — and that's not going to change very much for the next while, given the awesome comprehensiveness of the ass-kicking my day job is giving me these days.  It's hard, really, because the more or less total collapse of the GOP primary field is turning some of my favorite media star-hacks into clattering, gibbering, addled parodies of what were pretty much cartoons to begin with.  What we might call a target-rich environment. (A singularly poor choice of image, as you will read in a moment.)
But there you go. Astonishingly, those who pay me daily expect me to respond daily.  The nerve!
And thus it is that I drop in just to offer up this, which isn't funny at all.
ST. PETERSBURG, Fla. – Authorities say the daughter of a pastor was accidentally shot in the head at a church in St. Petersburg.

The Pinellas County Sheriff's Office was called to the Grace Connection Church Sunday at about 12:24 p.m. Sunday.

Investigators say Moises Zambrana was showing his gun in a small closet to another church member – the victim's boyfriend, according to CBS affiliate WTSP – who was interested in buying a firearm. Zambrana reportedly took out the magazine of the Reuger 9mm weapon but did not know there was a bullet in the chamber. …

The gun went off and fired through a wall, striking 20-year-old Hannah Kelley. She was transported to Bayfront Medical Center to undergo surgery and remained in critical condition late Sunday.

"There is a big level of concern 'cause she may or may not survive. But we're all praying for her and, right now, I guess that's the best we can do," church member Tony Diehl told WTSP.

Deputies said Zambrana has a permit to carry a concealed weapon.

No charges have been filed. [CBS/AP via th]
Y'all may recall that  I'm no fan of guns — I think a gun is a damn stupid thing to have around the house, and I especially disdain the notion that a more heavily armed society is safer than one less well strapped…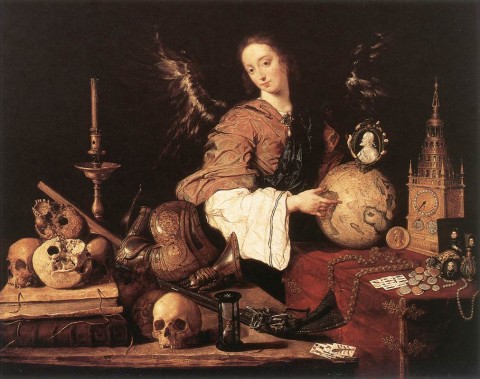 ….Still, I wouldn't say that no one should have a gun.
I've shot at targets before and enjoyed it, and I come from a couple of generations of career gunners in the Royal Artillery, so it would be hypocritical (as well as insufficiently filial) to  suggest otherwise.
But I do think we are lax in the demand of absolute responsibility of those who choose to own guns.  I'm a strict liability kind of guy in this area.  If  you decide to own a gun, you own all of it.  It's your job to secure it — if someone steals it and uses it to cause harm, that's at least in part your problem. You fail as utterly Mr. Zambrana did, you should have criminal and civil liability to deal with…and so on.  A gun is a tool that is designed to apply deadly force at a distance.  Owning such a tool should carry the most rigorous obligations with it.  Anything less is disrespectful of the machine itself.
Your mileage may vary.   Have at it (and me).
Image: Antonia de Pereda y Salgado, Allegory, c. 1654