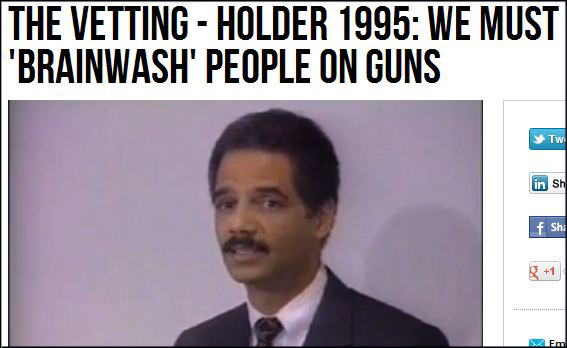 As GOP sage Sarah Palin recently noted, President Obama and his terrorist pals were allowed to waltz right into the Oval Office unscrutinized in 2008 while white people Republicans like Ms. Palin were pelted with gotcha questions such as, "What newspapers do you read?"
Andrew Breitbart vowed to address the blatant unfairness of this situation by subjecting all African-American Obama Administration officials to a thorough vetting. After Breitbart's untimely death, his underlings — the Breitbrats — announced that they would continue Dead Leader's legacy by presenting an occasional series entitled Negros Said the Darnedest Things On Video in the 90s The Vetting.
After revealing 10 days ago the scandalous footage of a young Barack Obama hugging a black Harvard Law School professor back when Phil Collins was king of the Billboard Hot 100, Breitbrat Joel Pollak unleashes another bombshell sure to rock the Obama Administration to its very foundations. Attorney General Holder was caught on tape intimating that it might be a good idea to convince young people that it's not cool to "pack heat" or whatever quaint expression they used back when Boyz II Men topped the charts:
"What we need to do is change the way in which people think about guns, especially young people, and make it something that's not cool, that it's not acceptable, it's not hip to carry a gun anymore, in the way in which we changed our attitudes about cigarettes."
Translation: jack-booted DoJ thugs will kick down your door to collect your shootin' arn in 3…2…1…. Stay tuned next week, when sinister Obama consigliere Valerie Jarrett will be revealed as the winner of the 1992 Black Panthers Ladies Auxiliary Brownie Bake-Off!