I'm serious, about the stroke. I just can't function in a world where quality journalism is so important and yet so hard to find. Here's Tovia Smith, of NPR, making the same argument that Columnist Boyardee made the other day— that our recent colleges graduates are struggling because they didn't take "practical" majors. I promise, I'm looking at this less as a matter of defending the liberal arts and more as a matter of asking for absolutely elementary journalistic quality. If you are writing a story that suggests that our recent graduates are struggling because they didn't take practical majors, you have to perform at least two minimal functions.
Number one, you have to demonstrate that in fact many people are taking these majors.
Number two, you have to demonstrate that there are in fact actual bad economic consequences for these majors.
Not only does Tovia Smith fail to demonstrate those things, she seems not to understand that these are basic requirements for such a story. Since the well-remunerated professional can't bother to check the facts, I'll do it for her. Again: in vast numbers, American college students do take supposedly practical majors. Business, for example, is the most popular major by a broad margin. See for yourself: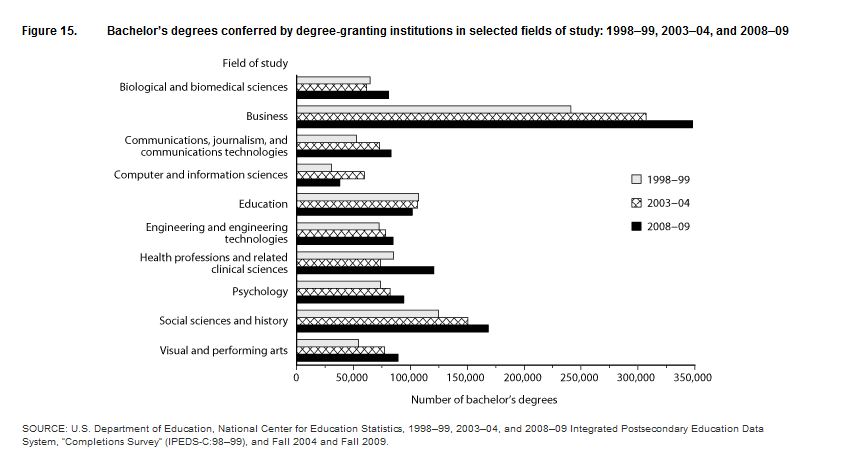 Check the link for all the specifics.
There are similar no facts within the piece whatsoever to justify the idea that supposedly impractical majors have worse economic outcomes than supposedly practical ones. And while the NCES doesn't track those outcomes, the best evidence available to me suggests that the liberal arts don't have worse economic outcomes than supposedly practical, "career" oriented majors. If Smith bothered to make an argument with any kind of reference to evidence, I might be able to rebut it, and the burden is of course on her to make that argument. But she didn't, so I can't. As I said in the post on Frank Bruni, a far, far more persuasive case can be made that recent graduates are suffering across fields and skillsets, thanks to inadequate aggregate demand. (Maybe somebody should do something about that.)
If you know Tovia Smith, you might ask her why she failed in such a comprehensive way. If you follow her on Twitter, you might tweet her this post. If you know editors or administrators at NPR, you might ask them if they have any standards of evidence, or if they employ ombudsmen, or who exactly let this piece out without evidence in the first place. Absent that, there's essentially no way to get accountability for journalism that is inadequate in the most elementary terms. The American media is a comprehensive failure.