One of the greatest frauds of the modern blogosphere has been me pretending that Tunch is some sort of vicious beast intent on my destruction- a feline version of Keyser Soze. It's been ten years since I got the fat boy, so I feel it is time to come clean. He's a lover, not a fighter. He sleeps on a special pillow next to my head, which is there for just him, and he purrs a sweet harmony every night. In the daytime, he follows me around the house as much as Rosie. At night, when the dogs are in bed, he's right there next to me on the couch or on the glass table or on my lap. I know it is fun to pretend he is mean and imposing, but this is the real Tunch: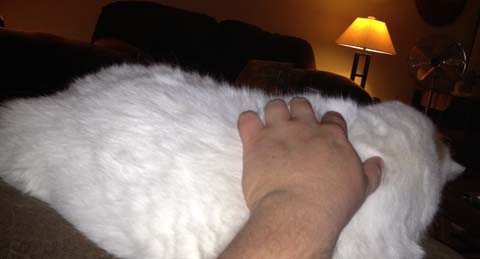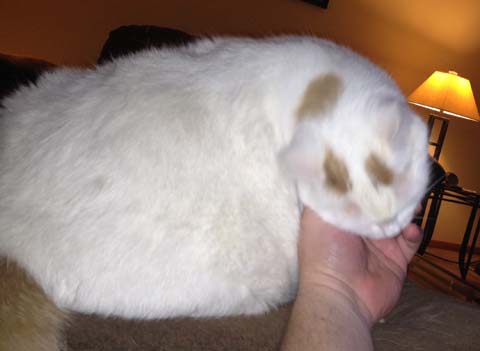 And, in case you are wondering, he is softer than cotton, his purrs are louder than a big bass drum, and he is actually the sweetest cat I've ever known, except for maybe Mr. Purr Puff, the cat I had as a kid.
I'm sorry for perpetuating this hoax for so long.
And yes, I know my hands look like they have gone through a meat grinder. You break every finger on both hands 2-4 times and get back to me.