Mr. Personality is off to a flying start.
Not so much as a glance at the press corps from Romney on the plane, which was both funny & telling. Biggest press group traveling w/him yet

— Maeve Reston(@MaeveReston) July 28, 2012
The campaign team shows off their superior organizational skillz.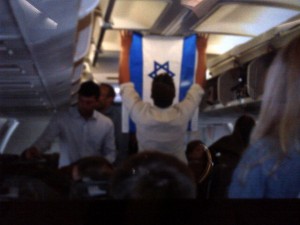 [original photo via]
Romney plane also decorated w/ Middle East map & Team USA Olympic sign. Aides had an Israeli flag to hang but nixed it

— Holly Bailey (@hollybdc) July 28, 2012
Meanwhile, Team Rmoney is ready for Obama's "Saturday Surprise." Whatever that may be. Any guesses?