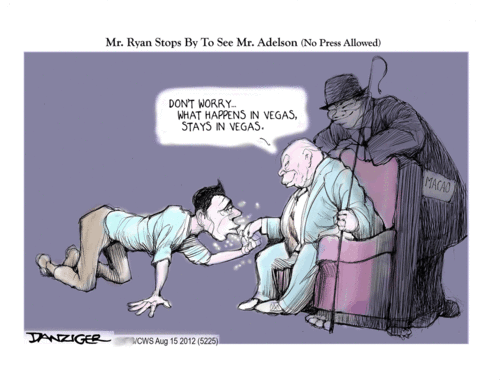 (Jeff Danziger's website)
From the NYTimes:
LAS VEGAS — Four days after his announcement as Mitt Romney's running mate, Representative Paul D. Ryan was not in Florida talking Medicare with elderly voters or in drought-ridden Iowa talking about a farm bill. He traveled to the Venetian hotel here for a meeting hosted by Sheldon Adelson, the billionaire casino mogul who has pledged to spend as much as $100 million this year to defeat President Obama.

Mr. Adelson has already contributed more money to defeat Mr. Obama than anyone: over $50 million has gone to the 2012 campaign, including $10 million to a "super PAC" backing Mr. Romney and $10 million to Crossroads GPS, which has run millions of dollars of advertisements against Mr. Obama.

In keeping with Mr. Adelson's penchant for staying below the radar, Romney aides refused to say who attended the meeting with Mr. Ryan, though the location (a private room at one of Mr. Adelson's hotels) and leaks from the Romney camp left little doubt. And in keeping with laws that prohibit elected officials from explicitly asking donors for super PAC money, aides to Mr. Romney insisted before the event that the meeting was not a fund-raiser.

"It's a finance event, not a fund-raiser," an aide told reporters. Asked if people were paying to attend, he repeated, "It's a finance event, not a fund-raiser."

Monte Miller, a longtime Republican donor who planned to attend, described it as an opportunity for major contributors and influential Las Vegas Republicans to size up Mr. Ryan.

"I've watched Ryan for the last few years," Mr. Miller said. "I think I know what he's going to bring. But I haven't been in the same room as him. I want to see his charisma and communication skills." …
Dance, little monkey, dance!
Since what happens in Vegas — and Macau — doesn't always stay there, Adelson may need all the political help he can buy:

… In the political arena, Mr. Adelson is perhaps best known as a hawkish defender of Israel. But whatever the outcome of the inquiries involving his businesses in China, an examination of those activities suggests a keen interest in Washington's China policy and highlights the degree to which politics and profits are often intertwined for Mr. Adelson….

The Sands has faced a conundrum in China as a casino company whose fortunes are heavily dependent on its operations in a country where gambling is illegal, except in Macau. The company relies on the good will of Chinese officials, who mete out approvals and have the power to curtail the flow of mainland visitors. As a result, Mr. Adelson has sought to use financial clout and connections to exert political influence at the highest levels of government. …

The broad outlines of the mainland China investigation were reported last week by The Wall Street Journal. But a review of more than a thousand pages of corporate records in China, as well as interviews with former Sands executives and others, provides a more detailed picture.

The documents show that the Sands paid out more than $70 million to companies tied to Mr. Yang for the trade center and for a Chinese basketball team the Sands sponsored. But several million dollars appear to be unaccounted for after the projects were suddenly shut down by the company, The New York Times found…
Pro Publica has even more detail here and here.
I know I keep repeating this, but seriously: Can you imagine how Darryl "IOKIYAR" Issa would react if news organizations were reporting that a Democratic donor was under investigation for multiple long-term violations of the Foreign Corrupt Practices Act? Especially if it involved tabloid-friendly headlines about paying off ChiCom "princelings" so that organized crime rings both here and overseas could ship prostitutes, launder money, and smuggle pirated goods?