I'm still grinning ear to ear.
My voice is hoarse from all last night's howling at the moon with 1000+ of my suddenly dearest friends (MA Democrats do know how to party….).  All day I've failed to recover (old man!) from the resulting 3:30 a.m. bedtime, followed by that all-to-familiar 6:45 alarm that begins the process of getting Blessed Increase off to school.
But by damn, I'm still smiling huge.
What's more, sometime last night — after the fourth scotch I think, or maybe the first bourbon I had to follow those wee drams — it came to me:  years of GOP obstruction had one limpidly clear consequence.
A while back, the Senate had a choice:  entertain the nomination of a grandmotherly law professor to serve as the first head of a novel Consumer Finance Protection Bureau — or to send Elizabeth Warren packing as part of a larger campaign to prevent that new body ever taking action.
We all know what happened:  the Senate's Republicans told President Obama they would never confirm Warren (or anyone) for the job.  The recess appointment that followed provoked controversy enough, and whether by her choice or Obama's, the administration decided not to toss gasoline on the flames by placing Warren at the head of the agency she had (with others) built.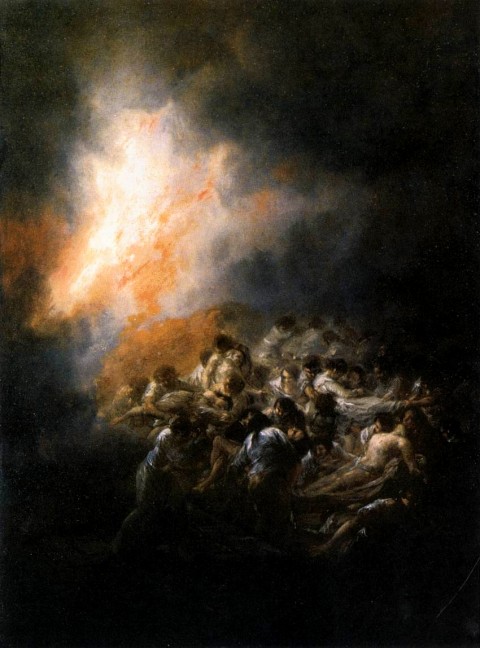 Instead, she was told to pack up her marbles and go home, with the GOP celebrating her return to the safely (they thought) isolated groves of academe.   As it happens, Warren made her way back to the  Massachusetts just as our accidental senator, Scott Brown, was showing all the signs of being a lock to extend the wild ride he'd begun by defeating the single worst political candidate for whom it's been my misfortune to volunteer.*
Sure, there were other Democrats already aiming at Brown, at least a some of them good people who, I'm sure, would make solid legislators.  But to be blunt:  they were second and third tier candidates.  Brown had a ton of money, and — as the actual race that followed demonstrated — no worries at all about being able to attract much, much more.  He had the image stuff down:  he was a good guy with the truck who managed to seem as independent of his party as every Massachusetts Republican needs to be.  He was nice looking (if you go for that sort of look), well known and mostly liked state-wide, with a campaign organization already in place that non of the Democrats in the race could begin to match.
Yes, this is a Democratic state, and yes, it was a Presidential year — but no one with a finger in the wind thought that Brown was seriously at risk.  The tell:  not one of the ten Democrats from Massachusetts serving in the House  chose to risk their safe seats for a run at the upper chamber.
Enter Elizabeth Warren.  She arrived preceded by at least some fame.  She proved able to draw money as no other MA Democrat this year could have.  And she turned out to be a genuinely talented campaigner.  She wasn't perfect — but as a rookie from out of town in a state that has historically been deeply unfriendly to women chasing the top jobs, she started out good, learned fast, and became truly impressive by the end of the race.  She hit all the notes, playing beautifully to the better angels of our natures, while, as her  scorched earth counterattack on Brown's unbelievably feckless asbestos attacks demonstrated — she managed to  master all the necessary lessons of the gut-punch school of Massachusetts politics.
And yesterday, she won.  Decisively.  The invincible Senator Brown ended the night as roadkill squashed by a juggernaut no mere pickup could dodge.
Counterfactuals are never certain — but I can't come up with a scenario that has Brown falling to anyone in the original list of Democrats seeking to oppose him.
I can't see Elizabeth Warren running if she were in her first year or so shepherding a new agency she'd worked so long and so hard to establish.
If the minority in the Senate had merely behaved as virtually every prior caucus of both parties had done, allowing the confirmation relatively routinely of a qualified executive branch nominee, I can't see anything but re-election and a full six year term for the Republican who took Ted Kennedy's seat.
And yet, on the 50th anniversary of Ted's first senatorial election victory Warren and not the incumbent  will be heading back to Washington.
All because the Republicans made a decision to oppose literally everything the President proposed.  I'm not saying that they could have anticipated the consequences that flowed from the decision to try to end every Obama initiative in failure…but there are indeed outcomes that flow from their actions.  What caused once  sure-things like Akin and Mourdock to fall was more explicit, more obvious, clearly the result of the long process of radicalization that has wrecked the Republican party.  But don't let the self-destruction of the crazies fool you.  They and Brown all lost for overlapping reasons — and the biggest of them is that the GOP has doubled down on the belief that if they wreck the country they will be rewarded with power.  Brown can be seen as collateral damage — or perhaps a victim of Republican friendly fire.
He won't be the last one.
In the meantime, I get pleasure every time remember this: all those GOP senators who swore never to permit Warren anywhere near actual power have got a problem.
Q:  What do you call that nice lady from the Commonwealth of Massachusetts?
A:  Senator.
May they choke on the lesson.
*Losing is no fun, and those last few days of working when you know that the face of the campaign simply never grasped the basics of the job — those final shifts really, really suck.
Image:  Francisco de Goya, Incendio, fuego de noche, 1793.