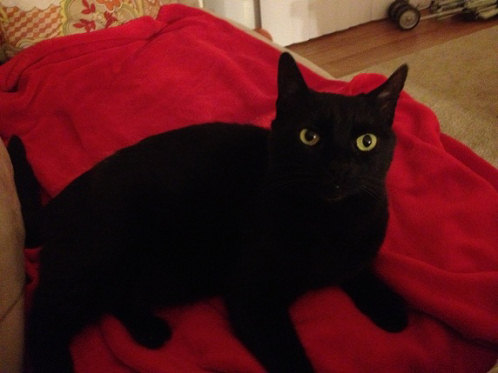 From commentor AdamT:
I have two cats that I love with all my heart. I have had both of them for about 10 years. I had a child 19 months ago … and guess what …. he's allergic to cats.

I found a temporary home for them hoping to find a permanent home with someone I knew and trusted, but times up. Her landlord does not allow pets and they have to be out by this weekend.

I have to find a loving home for them. Although I'm asking a favor (a huge favor … a home for two older cats), I can't just give them to anyone. I need to know they will be well cared for.

I'm in North Carolina, but I have a 4-day weekend coming up and I am willing to drive them anywhere within the Eastern US if I know they're going to a good home.

The little black one is named Heewa (pronounced HEE-VA; it's a Hawaiian word for "all black").

The white one is named Allie.

Both are exclusively indoor female cats. Allie is declawed, Heewa is not but she is not very active with them. Both cats are extremely affectionate and pester you for attention quite frequently. Allie adjusts to a new environment immediately, but Heewa is a different story. For the first few weeks, she will hide and only venture out at night to eat. But once she adjusts, she will be fine. But she will always be skittish (she will hide when strangers are in the house).

We previously introduced a male cat into the house and they never got along (but he was an extremely aggressive cat). I don't know how they would react to another cat …. it wouldn't go well in the beginning. A dog would be a bad idea. They are great with kids (Allie right away, Heewa once she adjusts).

They like to snuggle in the bed at night with their owner. Heewa loves having her ears scratched. Allie always cocks her head at a 45 degree angle and is very clumsy (stemming from an ear infection she had when I rescued her). She loves catnip (like to the point of needing an intervention).
If you have any leads, send me an email at annelaurie (at) verizon.net — click on my name in the right-hand column — and I'll put you in touch with AdamT.