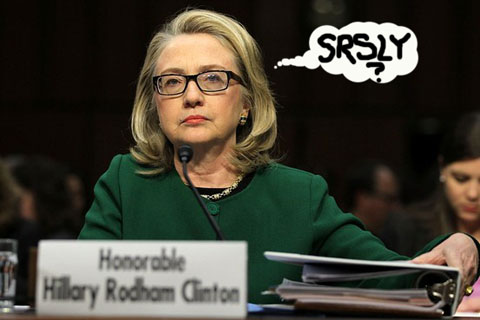 Secretary of State Clinton tangled with the preening Republican arseholes in the Senate this morning and is right now confronting the unhinged yahoos in the House. I thought she was terrific this morning, from what I saw.
However, I think Steve M at No More Mr. Nice Blog has it right when he notes that, while we lefties perceived Madam Secretary deftly catching her interrogators' self-serving slings and arrows and hurling them squarely back at her inquisitors' junk, the right isn't watching the same show. In response to Senator Johnson's obsession with Ambassador Rice's Sunday morning talk show talking points, Secretary Clinton said:
"With all due respect, the fact is we had four dead Americans," she said. "Was it because of a protest, or was it because of guys out for a walk one night who decided they'd go kill some Americans? What difference, at this point, does it make? It's our job to figure out what happened and do everything we can to prevent it from ever happening again, senator. Now, honestly, I will do my best to answer your questions about this. The fact is that people were trying, in real time, to get to the best information."
Steve observes that the wingnuts have already pounced on the quote: "What difference does it make?" and notes:
They have what they want: a soundbite they can rip from context and use as a cudgel to beat the administration and Secretary Clinton with. I'm not sure if they really expect their efforts to color mainstream coverage of this story, but it's clear that that's what they're hoping. They have a new "you didn't build that," a new "spread the wealth around," and they're going to wring everything they can out of it.
He's right, I'm sure. But I'm betting they'll meet with similar levels of success with their latest chew-toy. Which is to say, zero outside the wingnut echo chamber. Please proceed, Governor.
[X-posted at
Rumproast
]