For the last couple years, Tunch has had to jump about 3-4 feet onto a table to access his food, because I figured it was the only exercise he got and because if I leave his bowl on the ground Rosie would weigh as much as me. At any rate, he has been meowing a bunch lately to psych himself up for the jump, and I realized the big guy will be 11 this spring, so I decided to splurge and get this: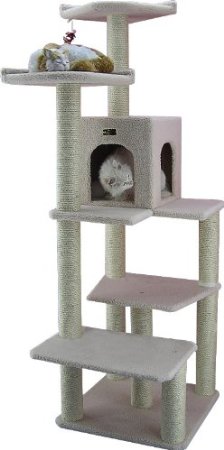 He'll still have to climb to get to the vittles, but no big jumps and the Rosie can't reach, so mission accomplished.
And yes, it is 72″ or so, so he will fit. And yes, I may still bring up some free weights from the basement to put on the base of the tree just in case.