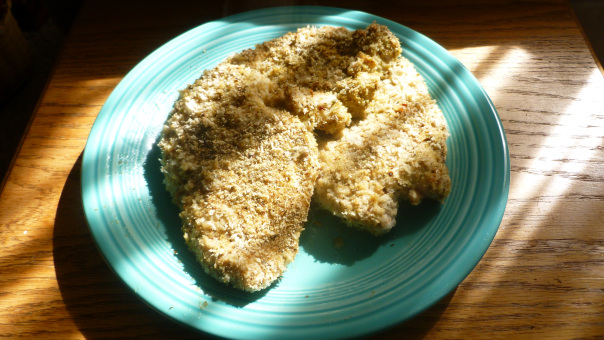 .
From our Food Goddess, TaMara:
I thought we'd covered oven baked chicken before, but it turns out we have not. Since this is one of my favorite ways to make chicken, I was surprised. So that's tonight's theme. There are many different ways to go about making crispy baked chicken, I like Italian bread crumbs and panko for mine. Sometimes I soak the chicken in buttermilk for an hour and use that instead of egg to get the breadcrumbs to adhere. But if I'm in a hurry, it's just the traditional recipe that I've posted below. And by traditional, I mean the one I grew up with, although my mom used rice crispies and cut up chicken pieces.

To change things up, you can add ingredients, like parmesan cheese, sesame seeds (there's a recipe for that below), corn flakes or rice crispies. I saw a very interesting recipe recently that used toasted pecans, breadcrumbs and panko as the coating. I'm going to recipe test that one when I have a chance.

If you want something a little different, one of my favorites is Crispy Potato Chicken (recipe here).

Craving a Crispy and Spicy Chicken Sandwich? Here's a recipe that comes close to a famous fast food joint.

And for something completely different, how about Baked Chicken with Peaches? (recipe here).

If you're looking to barbecue chicken that's not all scorched on the outside and raw inside, either on the grill or in the oven, I have some simple tips here.

Grilled, baked, fried or barbecued, what's your favorite style of chicken? Do you have one of those favorite childhood foods you just have to make once a week or so? Share some recipes in the comments.

On to tonight's two featured recipes:

Oven Fried Chicken

2 boneless chicken breasts
4 bonelss chicken thighs
1 cup Italian breadcrumbs
1 1/2 cups Panko
2 eggs, beaten
1 tbsp olive oil
¼ cup water**
salt & pepper to taste (at least 1/8 tsp each)
large mouth bowl, large plate and baking sheet lined with foil or parchment

Wash and pat chicken dry. In a large bowl, add water, eggs, oil, salt and pepper and beat well. Mix together and spread Italian breadcrumbs and panko evenly on large plate. Take chicken pieces one at a time and dip in egg wash, coating completely, dredge in bread crumbs until lightly coated on all sides. Place on baking sheet. Bake at 375 degrees for 30 minutes with foil covering the chicken, uncover and cook additional 15 minutes.

If you want to punch up the coating, you can add additional dry herbs to the breadcrumb mixture, I usually add some extra garlic and onion powder, a touch of cayenne, a bit of dried basil and rosemary.

This next recipe is great when the kids want chicken fingers, or it can be used with breasts and thighs as well, but you'll need to increase the portions of breadcrumbs and sesame seeds to equal 3 cups.

Sesame Chicken Fingers

1/2 cup stone-ground mustard
1/2 cup honey
3 tbsp limejuice
salt & pepper
½ cup sesame seeds
1 cup Italian breadcrumbs
1 egg, beaten
¼ cup water
1 tbsp sesame oil or olive oil
1 to 1 ½ lbs chicken tenders
baking sheet, greased or lined with parchment or foil
2 bowls and 1 plate

Mix mustard, honey & limejuice in bowl, set aside. On plate mix salt, pepper, breadcrumbs & sesame seeds. In second bowl, add egg, water & oil. Dip chicken in egg wash then dredge in breadcrumbs. Line on baking sheet, bake at 425° for 10 minutes, turn, and bake an additional 5 to 10 minutes, should be crispy on all sides. Serve with mustard dipping sauce, waffle fries and a fresh vegetable tray for a quick and easy dinner.