Yes, I know I take shitty pictures: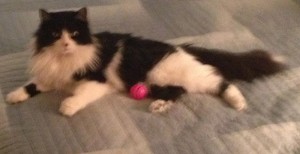 She's a real sweetheart, and a night owl. The dogs slept through it, but I caught her on several occasions last night carousing around the bedroom while everyone else was sleeping. She was just exploring the space.
*** Update ***
One amusing anecdote- every time I go to pick up Zsa Zsa I almost launch her through the ceiling because she is only 7.7 lbs and so much lighter than what I am used to when picking up a cat. I'm used to bending at the knees and using my legs to lift when I pick up Tunch, but with this one I try the same strategy and almost launch her into the air she is so light.