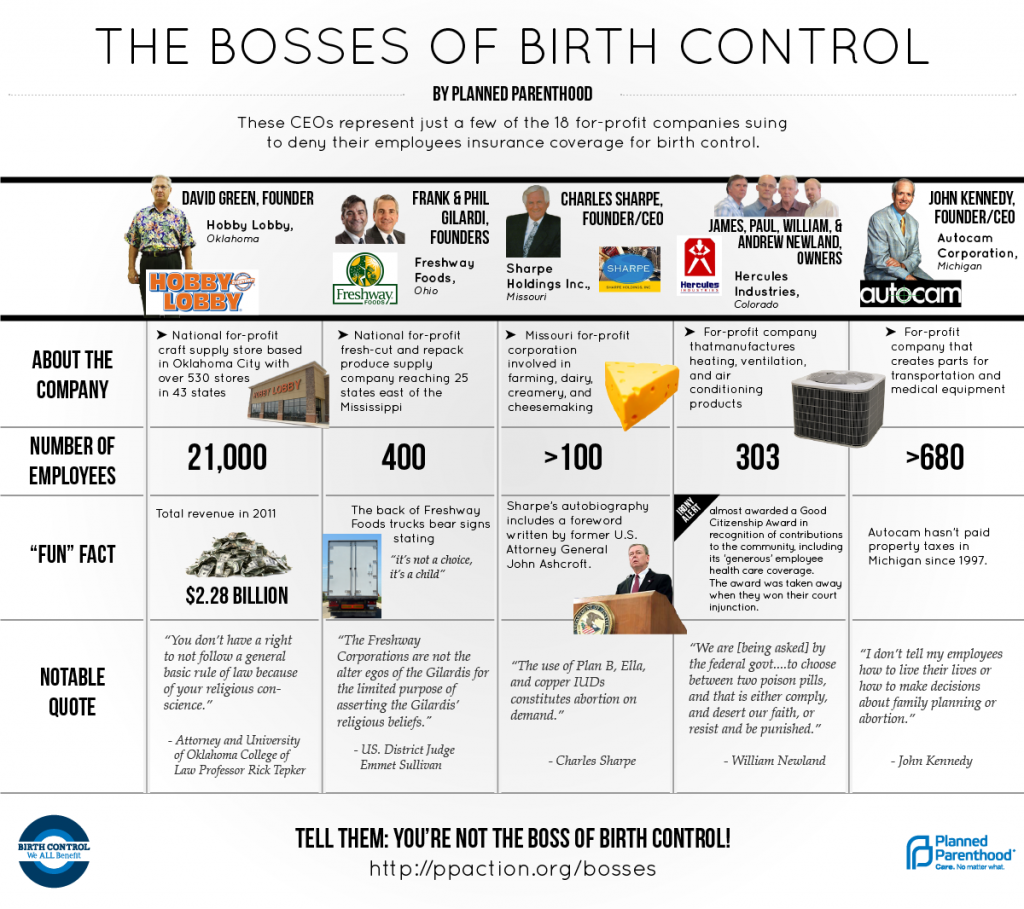 Eighteen for-profit companies are trying to wiggle out of compliance with the birth control benefit, and are doing so based on misleading scientific and legal claims. One claim — that the birth control benefit requires organizations to cover "abortifacients" or "abortion-inducing" drugs — is horseshit. The pill, Plan B, and Ella prevent fertilization and do not "abort" already fertilized eggs. Another claim — that the birth control benefit infringes on for-profit company's religious freedom is legally unsound: the birth-control benefit does not represent a substantial burden to individuals' exercise of religion. (Of course, that's my opinion and the opinion of a handful of courts — it has yet to be litigated by the Supremes.)
Via Jodi Jacobson at RH Reality Check:
Eighteen for-profit companies have filed lawsuits to avoid complying with the the birth control benefit in theAffordable Care Act (ACA), which requires that all insurance policies cover birth control without a co-payas part of preventive care. Oftenmisleadingly characterized as mandating "free birth control," the ACA, otherwise known as Obamacare, requires that all insurance policies cover all forms of basic preventive care without a co-pay, including well-woman, well-baby, and well-child visits, as well as other basic prevention care for men and women. This coverage is intended to save costs and promote public health.

Basic preventive reproductive and sexual health-care services, including contraception, are therefore also covered without a co-pay; as part of the mandate, all insurance plans must provide coverage without a co-pay for all methods of contraception approved by the Food and Drug Administration (FDA). Employees earn their salaries and their benefits, and many pay for all or a portion of their health-care premiums out of their salaries. As such, none of this coverage is "free," but is rather covered by the policies they are earning or for which they are paying.

Nonetheless, the 18 companies that have sued to overturn the birth control benefit are doing so based on several misleading claims. One is that providing insurance policies that cover birth control violates the "religious freedom" of the companies' owners. It is difficult to see how a critical public health intervention accessed through an employee's health plan violates the religious freedom of the owner of the company. In fact, the reverse seems to be true; not allowing an employee to access coverage he or she has earned would appear to violate the employee's freedoms, first and foremost.

The owners of these companies share the belief that a woman is pregnant as soon as there is a fertilized egg (the medical definition of pregnancy is successful implantation of an embryo in the uterine wall) and that a fertilized egg has the same rights as a born person. They also claim that the ACA forces them to cover "abortifacients," with most pointing to emergency contraception methods such as Plan B to make their case. Emergency contraception, however, is just that: Contraception. It prevents ovulation, and therefore fertilization, and does not work after an egg has been fertilized.

These lawsuits, now in various phases of litigation, are posing a critical challenge not only to the Affordable Care Act, but ultimately to the ability of all people to make the most profoundly personal decisions about whether, when, and under what circumstances to have a child and build a family.

Below is a list of these companies and the status of their cases. And Planned Parenthood Federation of America has launched a campaign enabling you to tell these companies what you think.
Click through for a full list of the companies, sign the Planned Parenthood petition, and then go outside and yell at the sky. Or something. (Just a suggestion.)
[via
RH Reality Check
]