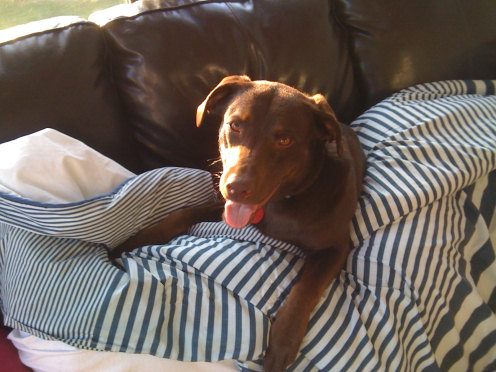 .
Above, a picture of Koda, enjoying her new home; below, Lucy on the beach, with her temporary foster. Good things happen, too.
I'm with Mr. Charles P. Pierce, and not just because he quotes my favorite Founding Father:
… The comfort of the ordinary. The comfort of the mundane. Let's just have a trial. Let's just have an open and honest trial, with all the evidence right there in the open, and not whispered piecemeal and half-baked out of Spookworld to Richard Engel or Barbara Starr. Let's have an open and honest trial with no showboating from an embattled U.S. Attorney, and all the evidence laid out there in good, honest cop-speak — "The suspect said…" "The suspect did…" We can do that here…

… [W]hen a colonial court sought to convict British soldiers for their conduct in what was called The Boston Massacre, it was a Boston lawyer named John Adams who acted, essentially, as their public defender, arguing,

"I had no hesitation in answering that Council ought to be the very last thing that an accused Person should want in a free Country. That the Bar ought in my opinion to be independent and impartial at all Times And in every Circumstance. And that Persons whose Lives were at Stake ought to have the Council they preferred: But he must be sensible this would be as important a Cause as ever was tried in any Court or Country of the World: and that every Lawyer must hold himself responsible not only to his Country, but to the highest and most infallible of all Trybunals for the Part he should Act. He must therefore expect from me no Art nor Address, No Sophistry or Prevarication in such a Cause nor any thing more than Fact, Evidence and Law would justify."

These were British soldiers in the streets of Boston, firing on crowds. John Adams did not recognize a "public safety exception" to their right to counsel. We stood up to an empire here for the right to judge our own people for their own crimes by our own laws. We can do this thing here. Hell, we invented this thing here. Seeing Dzhokhar Tsarnaev walk into an ordinary courtroom in an ordinary courthouse on as ordinary as day as possible would be worth a hundred healing services, and a thousand well-sung National Anthems, and a million waving flags in terms of restating who and what we are.