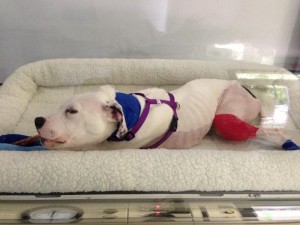 From commentor Felonious Wench:
This came to me from a friend. This poor little guy was brought to Noah's Ark after he was found crying on the side of the road. He had been dragged behind some vehicle on purpose and his skin was just stripped off. He also had a broken leg where the bones were completely out of his leg…the dragging had stripped away everything. He was emaciated, 100% septic…just a horrific situation.

But, he's been fighting to live. The staff at Noah's Ark has dipped into their own savings and credit cards to save him because his care has been horribly expensive. But, he's such a sweet little guy, and I think saving him has become, to them, saving all of these dogs that are so horribly abused.

Amazingly, looks like he's going to make it. But they are left with very high bills. This seems like something our wonderful BJ community may be able to help with. I am chipping in some $ to help defray the costs that the staff has paid for THEMSELVES to save him.

Here's the pictures and his story. They are graphic. But, miraculously, looks like he's going to recover:

Here's where he is today.

Here is how he started. Graphic pictures.

This is a heck of an organization. They take in badly abused dogs and save them.
Freckles has his own PayPal donation link, you can chip in right there and you don't need a Facebook account. And per Noah's Ark, "We are a 501c3 and all donations are tax deductible".