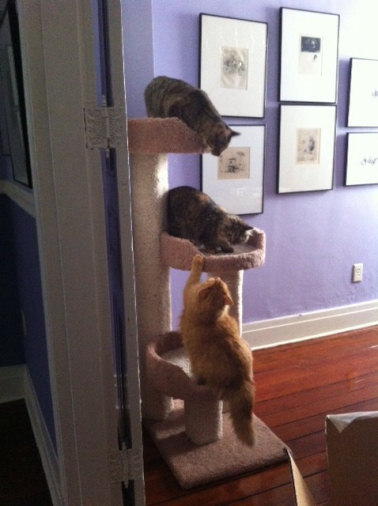 .
From commentor FoxinSocks:
When last we spoke, I was struggling to find a home for Cornelia, Julius, and Portia, and keep them together as a family. Now, they've got excellent new names – Persimmon, Huckleberry, and Peaseblossom – and a wonderful new owner. That's right, frequent BJ lurker and infrequent poster Klokanek has adopted them and has been spoiling them rotten ever since (as they should be!).

I understand Persimmon, ever the elegant cat, likes to spend her days lounging on the sofa in the living room or sitting atop the bar, overseeing the grading of papers. Huckleberry, meanwhile, is forever in want of a lap and Peaseblossom, who bonded to her new owner almost instantly, keeps herself busy by attacking the feet monsters that lurk under the covers at night.

All of this is on top of a busy regimen of wrestling, snuggling, and napping together, so I think it's safe to say these are some very happy, and lucky, kitties!Thanks so much to you and the Balloon Juice community for all your help and support. You guys are amazing.