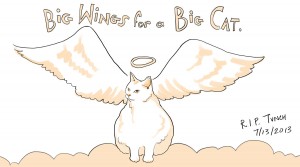 Heard again from the MARC folks, and it looks like the close to final tally for animal rescue in Tunch's name is around $15,200, but I know it will increase slightly because my mother and others I know mailed in checks that will take a while to show up and clear. They are just ecstatic at your generosity:
John, We had a great meeting and everyone is so happy and enthused about MARC now being able to help more animals!!!!

We are busy planning our next TNR in one of the towns. This has been made possible through a small grant from ASPCA. The town, South Pittsburg is overrun w/ feral cats. We have already altered 62 cats! There are several other towns who need the same help and hopefully we can do the same there.

We also have a Tractor Supply Pet Days event coming up in Aug. This event is usually more about humane education as most of the people in the area who come to TSC are already overwhelmed w/ animals who have been dumped or were strays they took in. This gets MARC out in the public eye and more people learn we are here to help.

Today April drove 60 miles one way to our next nearest low cost spay/neuter clinic taking 20 animals, 3 cats and 17 dogs. Last week she took 8 cats and 8 dogs. She has to hang out there all day while the surgeries are performed and then transport them all back to their homes. This takes all day. We would love to open a low cost spay neuter clinic in our area so we could get more animals altered. It is the biggest obstacle to getting a handle on the many, many unwanted animals. We have to make it more accessible for the low income families who make up the majority of the population in our Marion County and most of the surrounding counties. The few low cost clinics are always full and are scheduling out two months which is very frustrating when we are trying to prevent litters.

April is our person on the ground who has been rescuing animals for a very long time. She spends her time and energies away from her four young children and husband and uses her own car for all the traveling. We are looking to purchase a good used van, hopefully good on gas mileage, to use for all our transporting. Almost every week we send dogs up north to excellant homes and this also requires us to transport the animals 135 miles one way to meet another transport north. A van will be very helpful and the Tunch donations are making this a reality! Some of the Tunch donations will undoubtedly go towards this van!!!

I will send you another update on the donations later today.
Thank you, Sue
I was hoping they would use some of the money for seed money to hold events to raise more money (pot luck dinners and raffles, get the community involved, etc.), but it looks like these guys have good heads on their shoulders and are going to do wonderful things with all of your donations. I'm just so happy that we are closer to getting MARC to the same level as Charlie's Angels, Tunch's and this website's first animal rescue charity that no longer requires our help, as they are now self-sustaining. What a legacy for a cat who just wanted tuna and belly rubs and to have his presence DULY NOTED every time he entered a room.
I know there are those of you who are sick and tired of hearing about my fucking cat when so much awful is going on in the world, and to you, I say A.) find another website because you are going to hate this post, and B.) If you can't love the little helpless creatures in life and understand how others can, I don't want lectures from you on what is important. It's the little things in life that make it special, not the big events. It's the little things in life, like our cats and dogs and rabbits and whatever we lavish love on that make us capable of having the heart and fortitude to address the big issues.
I've learned so much about myself, and, well, you all, this week. I feel like I have been phoning it in the past year, having lost interest in politics because everything is just so fucking ugly and I feel like there is just a tidal wave of bullshit from the media and the right that none of us can hold back, and it just depressed me to the point that it was hard to have interest in politics anymore. But then, in my moment of crisis, the first thing I did was come here to you all and share my tears and sorrow, and you all responded, with your generosity, by not only making lemons into lemonade but also lemon meringue pies, lemon cookies, and on.
For the first 48 hours I was very, very, on edge and on the precipice. I spent two nights getting totally hammered alone crying and then spent the next day just lying in bed crying with the covers over my head. And spare me the notion that that is not healthy behavior. I'm German, and I didn't want people trying to comfort me by saying stupid things like "At least he had a good run" while tears are streaming down my face and snot balls six inches long dangle from my nose, all while trying to be the big brother and console my sweet, sweet sister and brother, both of whom blamed themselves and honestly were taking things harder than me, if you can believe it. But you all, and all the positive that was happening because of you and your generosity, well, you helped pull me out of it.
After a couple days, I decided it was time to get busy living again (and yes I love that movie, and yes it's a cheesy quote, and no I don't give a fuck what film critics think or thought). So I decided to move forward, went to the shelter two days ago, found someone who needed me as much as I needed him, and brought him home. Maybe I moved faster than some of you would have, but having been me for 43 years, I know what is best for me. I have a lot to give and the idea of mourning for months just seemed stupid and counter-productive.
I was sitting on the back deck a little bit ago while I was cooking a chicken breast in the skillet (which is good, because I have not been eating really the past couple of days- sandwich here, etc.), and I watched Rosie take a shit on Tunch's grave and just laughed, because the only way anyone could get away with shitting on Tunch is if he was a couple feet underground. I didn't even yell at her, but started to get sad, and just started wondering why this had to happen. He was such a good sweet cat. I started to cry a little bit, looked over to the setting sun, and saw this: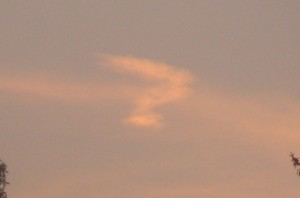 Why, indeed? Well, this is why: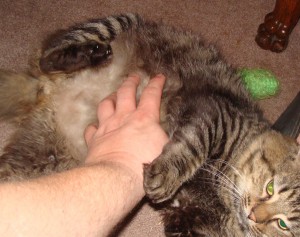 I noticed earlier that there is a small white patch of pure white on Boss's chest. The rest of his body is colored the way you've seen in the pictures, but there is this little one inch flash of pure white right over his heart in the middle of his chest. I'm calling it his Tunch spot, because I really do think Tunch sent Boss to me.
Again, thank you all. Get busy living or get busy dying.