So, it's the end of July, and the tomatoes are starting to come out, so you know what that means! Time for the wingnuts to foment racial unrest. I have no idea why they are always at their worst in the summer, and I think it's because all these crackers are miserable from the Alabama heat and humidity. Even with their rebel flag bandannas and watering holes, these guys get mad pissed at the coloreds every summer.
At any rate, since Fox News and Limbaugh rule our world, here is what my local teabilly nutjob had up on his redneck twitter feed today: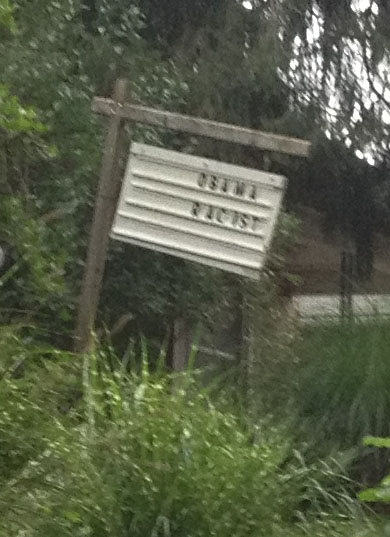 Yeah, Obama is the racist. Because again, black people are the real racists. Just ask Chris Rock. On the other hand, I gotta say, at least this redneck neo-confederate puke has the balls to own up to it. Compare that to this ticker from Jake Tapper's recent show with one of the best Cavuto marks in a long time: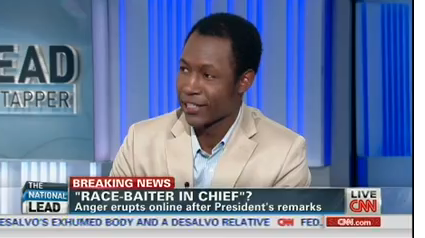 I confronted him, and told him he should probably talk to his staff, and his response was priceless:
@Johngcole I asked the panel about a quote from a Fox News pundit. My team rocks and the conversation was great.

— Jake Tapper (@jaketapper) July 20, 2013
Well, I guess that makes sense. If some crazy person said something somewhere, damned straight we should ignore what Obama really said and then have a "great" conversation.
Let's try this out for size. I know some of you have accused Jake of any number of things, the least of which is the hubris on display here. Suppose I convened a panel to discuss the state of journalism, and spent an hour discussing Tapper's career? Even though we had a productive discussion and agreed by today's standards, he's not that bad (and he wrote a pretty damned good book), I checked my comments section (and I think even the nuttiest of you is more sane than anyone who appears on Fox) and you had asked a sincere question. So I had my staff throw it out there. Is it responsible to speculate? I would be irresponsible not to. Soo, using his journalistic standards, I wonder what Jake would think of this ticker?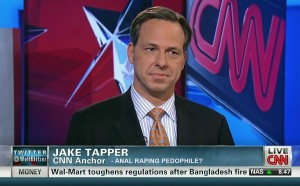 I mean, I'm just repeating what someone else said and asking for a response. For the conversation.
There is as much reason for me to ask that question as there is for an alleged news team with an anchor with an iq over room temperature. Just like there is no reason for me to think or even ask if Jake Tapper is an anal-raping pedophile, there is no reason for anyone who read or saw Obama's speech to question him about race-baiting. And no matter how "serious" or "great" the discussion may have been, there is no excuse for this.
Unless you're just a total dickhead interested in ratings and making sure your Fox News portfolio is solid.
BTW CNN- Hustler Magazine, Inc. v. Falwell, 485 U.S. 46 (1988). Look it up.