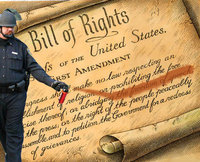 To cap the recent discussion of 'people who should never be put in a position to abuse the authority they crave', a snippet from NYMag:
"Pepper spraying a bunch of seated student protesters might turn out to be one of the best career decisions John Pike ever made, despite the fact that the former University of California at Davis police lieutenant lost his job over it. Pike is now seeking worker's compensation benefits from the university, for psychiatric injury. If the State Department of Industrial Relations awards him disability benefits, "it will cover income, health and other benefits until he turns 65," the Davis Enterprise reports. Pike, who made $121,680 a year with the university, was 39 when his employment with Davis ended last year…"
I try to be sensitive to others' pain, but I'm finding it hard to muster sympathy for "Waaah, after I made myself unemployable, people were mean to me on the internet!" as an excuse for a permanent disability waiver.