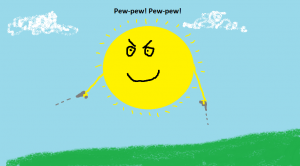 Zimmerman trial juror B29 is muddying the waters for those who claimed the proceedings should have never happened in the first place since Zimmerman was clearly justified in shooting Trayvon Martin. B29's comments reveal her own conflicts about the case, but more importantly, they make plain the fundamental flaw with Florida's version of "Stand Your Ground" — that it shifts the burden of proof from the living to the dead and leaves jurors who clearly perceive an injustice no remedy under the law to address it.
Via valued commenter Rikyrah, here's a link to a piece published this week by Joy-Ann Reid, current MSNBC analyst and former Miami Herald reporter, about why she's avoiding Florida because of the "Stand Your Ground" law. The whole thing is worth reading, but here are a few excerpts:
But right now, I'm giving Florida a rest. I'm not joining a mass boycott, just a personal one. And it's not because I simply don't like the outcome of a particular second-degree murder trial… I'm quitting Florida tourism for now, because my conscience won't let me travel to a state that I love, but where it's not safe for my sons to walk the streets…

In Florida, and 22 other states with similar laws, but particularly in Florida because of how Stand Your Ground was written, anyone who finds you threatening has a license to shoot you, based solely on the perception in their mind that you were threatening to hurt them. You don't even have to actually hurt them. As long as a jury of as few as six people believe it was reasonable for them to fear you, they will walk…

Since the law passed, the number of "justifiable homicides" in Florida has tripled, and the number of concealed-carry permits has ballooned to 1.5 million people. That's one in 17 adults. Police organizations vociferously opposed the law, but their voices were nothing compared with Pistol-Packing Marion [Hammer, NRA lobbyist] and her bottomless pocket full of ideas for laws that make carrying guns less legally risky for gun owners, and more risky for anyone unfortunate enough to freak them out…
That last line demonstrates how a stupid law like SYG cheapens and degrades the quality of life in a very real way. Zimmerman has already rearmed himself, and the state is crawling with paranoid gun-toters who now have even less incentive to allow the cops to handle "suspicious" persons or avoid or deescalate confrontations.
But nothing will change. As Reid notes, the politicians down here are too cowardly to stand up to the NRA, which makes them a lot like the US Congress. The crooked greed-head who purchased the Florida governorship for $77 million in 2010 has refused to call a special session of the wingnut-majority legislature to review SYG, and even if they did, they'd reaffirm it.
It is delivering on its original objective, after all: It is generating profits for gun manufacturers.
[X-posted at
Rumproast
]