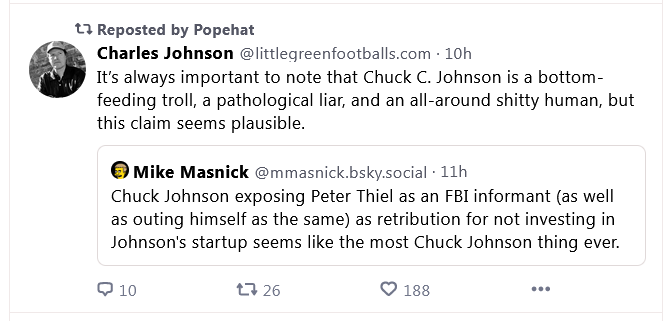 Peter Thiel is an FBI informant, lol. (Also whoever at the FBI code named Chuck Johnson "Genius" was surely being sarcastic.) https://t.co/MAGswfsi5o

— Elizabeth Spiers (@espiers) October 19, 2023
I hadn't thought about Chuck 'Rage Furby' Johnson since around the time Trump staged that famous escalator ride, and I wouldn't trust him if he walked in soaking wet and said it was raining. But if more informed individuals are willing to accept those accusations, however provisionally, there's certainly no reason to doubt that Peter 'Palantir' Thiel would be willing to take Big Gubmint Surveillance's shilling.
So, since I've been a Democrat for the last sixty years, the question for me is: Why does the FBI want their sponsorship to be known now?
… In the summer of 2021, Insider has learned, Thiel began providing information as a "confidential human source," or CHS, to Johnathan Buma, a Los Angeles-based FBI agent who specializes in investigating political corruption and foreign-influence campaigns.

Charles Johnson, a longtime associate of Thiel's and a notorious figure in the far-right movement that Thiel has subsidized for a decade, told Insider in a statement that he helped recruit the billionaire as an informant by introducing him to Buma.

A source with knowledge of Thiel's relationship to the FBI, whose identity is known to Insider but who insisted on anonymity, corroborated Johnson's account, telling Insider that Johnson brokered a relationship between Thiel and Buma. Insider was able to confirm through an additional source that the FBI added Thiel to its formal roster of registered informants…

The FBI maintains a vast network of informants to keep tabs on organized crime, terrorist threats, extremist groups, and other criminal and intelligence targets. These sources, according to the bureau's Confidential Human Source Policy Guide, are more than casual tipsters.

Confidential human sources enter "into a relationship with the FBI, and that relationship will forever affect the life of that individual," the guide says. "[They] will be either an 'FBI source' or a 'former FBI source' and, in turn, his or her conduct or misconduct will reflect upon the FBI." As such, the process for recruiting and maintaining such sources is highly regulated, requiring multiple layers of approval. Only people who are able to provide "valuable information … on a recurring basis" are granted CHS status, according to the policy…
Late Night Spooks Open Thread: Hall of Crazed MirrorsPost + Comments (21)