Wine foil dragonfly: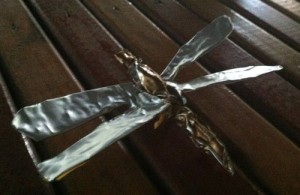 I spent the weekend at a nearby beach, hanging out with an old friend I've known since 8th grade. She talked me into trying out a paddle board.
It was just around sunset, and I was in the drink before I got five feet from the dock. Then I remembered that sunset is feeding time for sharks and got my ass right back on that board.
Please feel free to discuss whatever.
ETA: Good god, what an awful article at Slate from a woman who doted on her dog until she had a kid: "The One Thing No One Tells You Before You Have Kids — Don't get a dog."
A friend of mine once told me that before he had a kid, he would have run into a burning building to save his cats. Now that he has a kid, he would happily drown the cats in the bathtub if it would help his son take a longer nap. Here is how I feel about that statement: Velvel [name of author's unfortunate dog], avoid the bathroom.

It's not that I don't love my dog. It's just that I don't love my dog. And I am not alone. A very nonscientific survey of almost everyone I know who had a dog and then had kids now wishes they had never got the dog. This is a near universal truth, even for parents with just one child, though I have more.
"Near universal truth"? Maybe among the asshole author's circle of asshole friends it is. I know plenty of people who manage to have both children and pets without secretly wishing their animals would die.