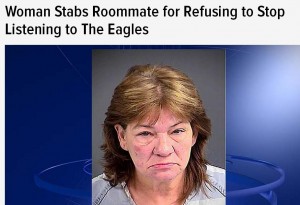 Via Gawker. I almost don't blame her, seeing as how the roommate is okay and all. And obviously violence isn't an appropriate response to monopolizing the stereo. I'm not a big Eagles fan, but that woman should remember that it could have been SO much worse. Air Supply, maybe.
Have you ever wanted to attack someone for forcing you to hear their music? I had a roomie who loved Pearl Jam too much. I liked Pearl Jam too, but not 24/7/365. And it's not like we didn't have personal listening devices back then. They were bulky and heavy and non-digital, but even in 1992, there was no excuse to subject everyone around you to your audio obsessions.
Please feel free to discuss bad or overplayed music, horrible roommates or whatever.