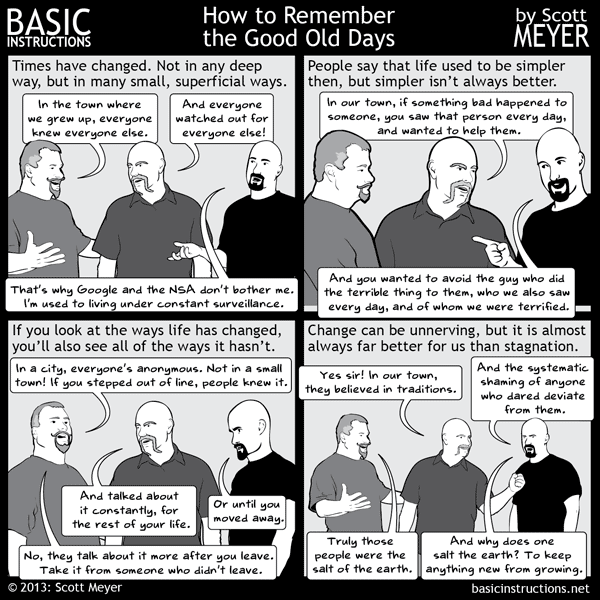 .
I grew up in a small, close-knit parish, which coincidentally (and grudgingly) happened to be located in one of the world's larger cities. Haven't been back there, or to my recollection inside a Catholic church, since I left for college. But growing up in a community where everyone knew, and had an opinion about, one's every act and thought was a pretty good preparation for science fiction fandom, and not a bad head start on the blogverse, either…
Speaking of knowing one's audience, last week Roy Edroso gave every non-glibertarian blogger's favorite target a good kicking in "Gen McMe":
… Long story short, McArdle's tale of whooaaa is meant to convince… well, nobody; she compares complainers to children, and throughout her chronicle (which might make a nice ebook entitled "Down and Out at the Koch Institute") never misses a chance to tell the kids, in her own sorry-notsorry way, you think you have it rough? It's just a way to fill column inches, and for some people the best way to fill column inches is to offer oneself as an example of grit and determination, a Horatio Alger of the Thermomix set, for the littlebrains to emulate…

As if you needed any more proof that The Up Side of Down is going to be the biggest inspirational best-seller since The Five People You Meet at a Matt Yglesias and Ezra Klein Shooting Match. When life gives you lemons, make Avocado Wasabi Ice Cream!…
***********
Apart from mocking the eminently mockable, what's on the agenda for the start of another week?