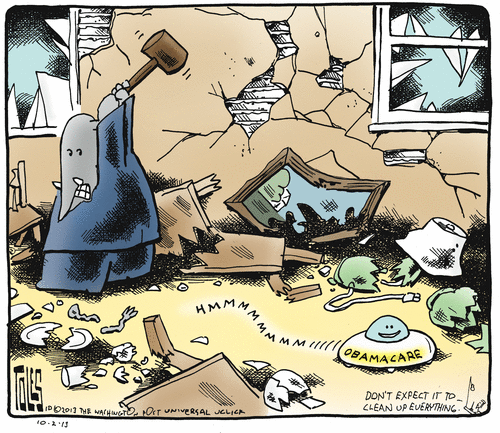 (Tom Toles via GoComics.com)
Could not happen to a more deserving bunch of nihilists. Dave Weigel reports on the sorry scramblers:
Ideally, as of [Tuesday] morning, Republicans were hoping that Democrats would come to Jesus and agree to form a conference committee to hammer out the continuing resolution. As of this afternoon, Republicans thought they had a Plan B (honestly, more like a Plan F at this point) that would scramble the "narrative" of the shutdown and bring Democrats back into the ring.

The plan sort of came from Sen. Ted Cruz. On Sunday, Cruz could see that Barack Obama would demagogue the shutdown by wailing that Republicans were taking away veterans' benefits, closing public parks, playing the new Miley Cyrus single on blast, and so forth. "I think we ought to start passing continuing resolutions narrowly focused on each of the things the President listed," said Cruz.

On Monday evening, a few House Republicans started talking this up. Again, this afternoon, it became full-on GOP strategy, with the House GOP reading a small bill that would fund veterans' benefits, public parks, and the District of Columbia. After 7 p.m., it would get a vote.

Before that vote, you could find plenty of Republicans high on the strategy. Mike Lee, Cruz's Senate life partner, gave a speech attempting to flip the "taking government hostage" attack onto the Democrats. "Let's leave Obamacare for another day and not hold the vast majority of government functions hostage when the vast majority of government functions don't have anything to do with the implementation and enforcement of Obamacare," he said. His phrasing confused people, and on a conference call Sen. John Cornyn seemed to think that Lee had just surrendered…

Lee and Cornyn made the same mistake. They didn't see how the Democrats could bring down the bill. But they could, easily. Republicans were trying to suspend the rules to pass the mini-CR, protecting it from Democratic tricks or amendments. That meant they needed a 2/3 vote of the House; since 428 members were voting, they needed 286 of 'em. That freed up most Democrats to kill the bill, and 164 of them did so…

So: For the second time, the GOP pursued a Ted Cruz strategy to embarrass Democrats into taking tough votes, underestimated how many of them would take them, and won nothing but a talking point.
TNR's Noam Scheiber thinks "Conservatives Have Already Lost Control of the Shutdown Narrative":
It's no secret why Republicans are facing a PR debacle over the shutdown they triggered. Not only have conservatives chosen an unpopular issue on which to make a stand—polls consistently show that Americans oppose defunding Obamacare by a fairly wide margin. The Tea Partiers have exacerbated the problem by choosing a massively unpopular approach to getting their way. The latest Quinnipiac poll finds that voters object to defunding Obamacare under threat of shutdown by a yawning 50-point margin. (In fairness, an earlier CNBC poll put the margin at a mere 41 points.) …

… Watching Fox on Tuesday inspired that rubber-necking impulse you typically only get when a Fox anchor is forced to pronounce a foreign-sounding name… Fox was all ready to go with its Obamacare set pieces—overburdened websites, 800-number backlogs. And it dutifully looped them into its coverage. But given its investment in the appearance of keeping viewers informed, it couldn't exactly go AWOL on the biggest political story of the year. Instead it spent the day flailing…

As if to mock the despairing apparatchiks, every half hour brought another report from a correspondent in the field surveying the landscape of shuddered facilities. The Statue of Liberty. Bunker Hill. My favorite was a group a World War II veterans who'd trekked to Washington to tour the World War II memorial, only to find it barricaded when they got there. Fox played the footage over and over, clearly sensing a prime Kulturkampf opportunity—aging war veterans made to suffer indignities by socialist president. But none of the Foxies narrating the story could quite figure out what to do with the fact that it takes government money to build memorials, and government money to keep them open. And so it just hung out there as an implicit rebuke of Republicans…
Much more to enjoy, at the links.