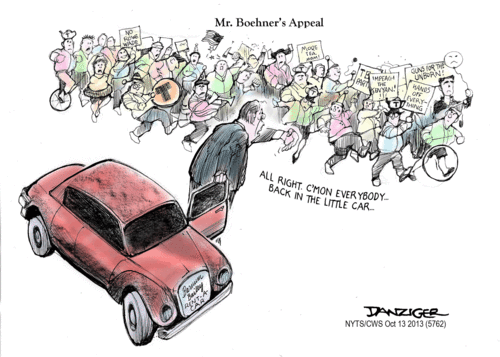 (Jeff Danziger's website)
Last weekend, NYMag published an interview with Repub Dick Armey, who was the House majority leader during the 1995/96 shutdown. Nobody ever accused Dick Armey of being a Great Mind, but apparently he was capable of learning from experience:
… Take me back to 1995. Why did Republican leadership think a government shutdown would be an effective tactic?
We had reason to believe we might be able to pull it off. Remember, we had had a lot of success that year. We were riding pretty high after the 100 days, and we felt that we were going to bring the Democrats to heel on our budget numbers. Newt insisted that presidents get blamed for shutdowns and that therefore we ought to develop a strategy that would take us to a shutdown. My position was that Republicans get blamed for shutdowns, because it's incongruous to the public to think that the Democrats — who they perceive as people who love the government — would shut down the government. But Newt was just certain that he would outwit Clinton…

So how will it end?
I will predict this: When they agree on a spending bill, it will speak not at all to Obamacare and it will be at budgetary numbers higher than the sequestration level. And so in the end, the Republican conference will lose ground on the budget, they will lose ground on health care, they will lose ground politically, and they'll be in a worse position than where Boehner had them going into this process. And they'll all blame Boehner, bless his heart.
My emphases.