On the Road is a weekday feature spotlighting reader photo submissions.
From the exotic to the familiar, whether you're traveling or in your own backyard, we would love to see the world through your eyes.
I've always loved this passage in the introduction to M.F.K Fisher's  memoir-cum-essay-collection The Gastronomical Me:
People ask me:  Why do you write about food, and eating and drinking? Why don't you write about the struggle for power and security, and love, the way others do?
One paragraph later, she replies:
The easiest answer is to say that, like most other humans, I am hungry.  But there is more than that.  I tseems to me that our three basic needs, for food and security and love, are so mixed and mingled and entwined that we cannot straightly think of one without the others.  So it happens that when I write of hunger, I am really writig about love and the hunger for it, and wormth and the love of it and the hunger for it….and then the warmth and ricghess of hunger satisfied….and it is all one. [ellipses n the original]
People don't often ask me why I write about science, and not politics or economics or culture or war…the way others do.
But I've asked it of myself, and I find myself lining up with Fisher.*  Science is so utterly intertwined with how we live that to write about its history, its discoveries, its many discontents,  implications, way of thinking, is to interrogate politics, culture, conflict, philosophy and everything else…food included.
But still, writing about science is not just a sneaky way to comment on Republican anti-rationality or whatever; it's not just a means to another end.  I've written a book about the science of climate change, and though that book is as much about politics — and human nature — as it is about carbon chemistry and Milankovitch cycles, I remember one encounter I had while researching it.
I was in the woods in mid-New Hampshire in October or so, a research forest, walking around with the scientist who'd spent a couple of decades at least measuring everything he could about that ecosystem.  We were talking about acid rain and the changes he'd been able to document, and all that you'd expect in such a conversation, and then he stopped in his tracks at a little jog in the trail.  "That's an ash tree," he said, pointing to what was clearly an old friend.  It was desert-highway straight, tall, in fine health.  "These are one of my favorites," he said.  "They make baseball bats out of these, which is very satisfying to me."
Which is to say that there is simple pleasure to be had in the scientist's life, or better, for most of us who aren't practicing researchers, in a science-infused view of life.  Sometimes, there's just the fun of the imagination leaping from the forest to the diamond; sometimes it's the joy of the puzzle;  or the adrenaline rush of the extraordinary (did you know a wolverine can bring down a moose?  I didn't until I read this);or — and this is what I think first drew me into the story — it's simply those moments when science offers up a glimpse of pure, disinterested, astonishing beauty.
Like this one: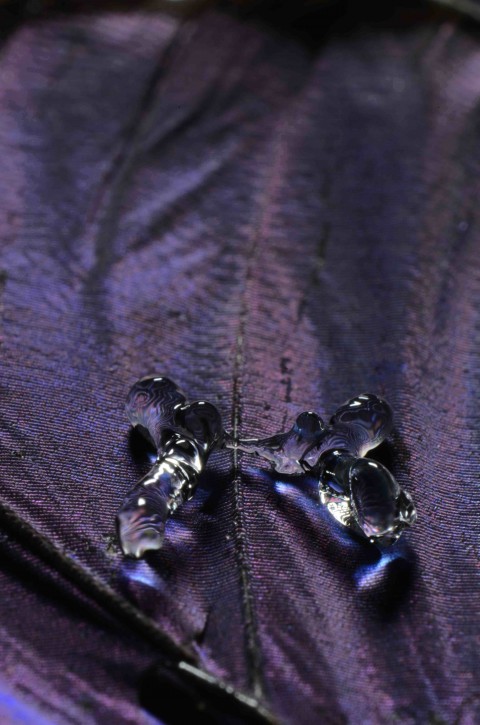 This image was made with the help of a friend and sometime co-blogger of mine, Dr. James Bales, assistant director of MIT's Edgerton Center and a master of high speed photography.  It shows a drop of water striking the wing of a a blue morpho butterfly.  It came about in the context of the work of a group of researchers at or recently of MIT who have been studying how to reduce the contact time between water and hydrophobic surfaces.  Cutting the interval during with sprays of water remain on such surfaces matters to applications like preventing icing on aircraft wings.
It turns out that engineering surfaces with tiny ridges does the trick — so far, the team has managed to reduce contact time by 40%, using surface configurations that can be achieved with readily available tools.  More details here.
That's all well and good — in fact, better than.  As someone who flies pretty regularly out of Logan Airport, I'm all for anything that erodes the threat of icing.
But why the butterfly?
As Jim tells it, the group knew that they had, in essence, reinvented something nature's been doing for a long time:  what you see happening on the blue morpho's wing above is exactly what engineered ridges on aluminum can accomplish.  And the researchers wanted to express that realization in a way that acknowledges the elegance thus implied.  Their own images were more useful than grand, and that's where Jim came in, with the results you see above…**
…which are to me, before anything else, simply beautiful.
From time to time I do ask myself why write about science.  An answer, not the only one, nor the whole of it, can be seen above.***
*People also rarely — never — juxtapose me with Fisher, but that's another kettle of fish.  I read her; I get to quote her.
**For those of you who like to think about such things, Jim says that "The tricky bit is getting the lighting just right (involved finding the right angles between strobe, wing, and lens, along with a mirror on the far side of the wing from the strobe to get a good fill light) and getting the timing right."  (That, by the way, is what good photographers say.  The tricky bits are you know, everything.)
For the ubergearheads among us, Jim reports that the image was made with a Nikon D700, mounting a 70-180mm lens (presumably Nikon's old macro unit), with a 1.4 teleconverter, a StopShot trigger unit (from Cognysis, in the US) and an Ultra Micro Flash from LaserScribe (an outfit in the UK) which has a flash duration of approximately 10 microseconds.
***Two more images for your delectation can be found below the jump.
All images: credit A. T. Paxson, K. Hounsell, J. W. Bales, J. C. Bird & K. Varanas, used by permission.