Had an old friend over for dinner and we watched some games, then as soon as he left, Walt showed up and we listened to music and chatted for a few hours before he left. Woke up in the chair and decided to take some pics. Here is the Lily: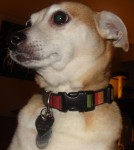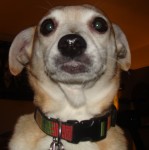 I say the Lily because she is so god damned homely it reminds me of the Kramer. Regardless, there has never been anything on this planet that I have loved more than that homely little dog. She's just the best, and I am so used to having her around that 90% of the time she is on my lap, I at some point look down and think to myself "Hey-when did you get here?" And then, if for some reason she isn't on my lap, I yell for her until she is. Just, hands down, the most awesome dog on the planet.
And so you all don't bitch, here is the only picture of Rosie I could get tonight. She's a JRT, and when she doesn't want her picture taken, well, she just isn't going to have her damned picture taken, and you humans better just figure that out: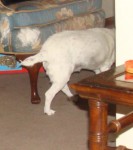 If I ever win the lottery, I am going to have a double king size bed with Egyptian cotton high count sheets and lots of pillows and just a big dog pile of warm, clean, snoring dogs all around the place, with some cats on pillows overlooking the situation. When I have panic attacks (which are few and far between these days, praise FSM), I always lie under the covers with Lily and imagine the big happy dogpile.
She really is homely but beautiful at the same time, isn't she?